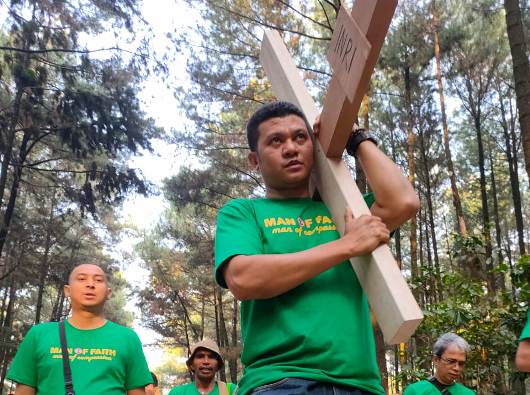 Kita sering mengalami tantangan iman. Ketika mengalami tantangan, ada dua sikap yang bisa kita lakukan untuk menghadapinya, tetap bertahan atau menyerah dan putus asa. Sikap yang diharapkan adalah menghadapi tantangan dengan semangat iman dan bersandar kepada Tuhan, agar tantangan berat apapun bisa diatasi.
Pastor Herman Yosef Bataona CMF berbicara dalam homili Misa Penutupan Camping Rohani Komunitas Pria Katolik (KPK) Paroki Santa Helena Curug Tangerang yang dilaksanakan 9-10 November 2019 di kawasan Taman Wisata Alam Gunung Pancar Bogor dengan tema "Man of Faith, Man of Compassion."
Camping itu diikuti 40 pria, suami, ayah dari Paroki Curug serta Paroki Santo Agustinus Karawaci, termasuk umat Protestan dan Islam, bahkan seorang mantan warga binaan dan sipir penjara. Selain Misa Alam di bukit berbatuan, peserta juga terlibat dalam Upacara Bendera menjelang Hari Pahlawan, diskusi, sharing pengalaman iman, termasuk oleh mantan warga binaan dan sipir itu, api unggun dan "Jalan Salib Lepas 14 Dosa Pria" dengan rute sepanjang 3,8 km di lokasi perkemahan.
Pastor Herman Yosef Bataona juga ikut mengalami Jalan Salib dengan memanggul salib. "Saya mau panggul salib sendirian ya Pak Andi," kata pastor yang akrab dipanggil Pastor Josse itu kepada Ketua KPK Paroki Curug Andi Janto Singgih pada sebuah perhentian.
Menurut Pastor Josse asal Lembata, NTT, yang sedang kuliah di UMN Serpong itu, camping rohani itu bermaksud untuk mengajak anggota KPK semakin meningkatkan pengorbanan (salib) serta compassion sebagai laki-laki atau pria Katolik.
Kehidupan yang hendak dicapai di dunia, tegas imam itu, bukan hanya terpenuhinya kebutuhan dunia "tapi juga selalu meningkatkan kualitas hidup rohani atau iman yang lebih berkualitas sebagai bekal pertanggungjawaban terhadap Tuhan, pemelihara dan pelindung perjalanan hidup kita."
Kehadiran anggota KPK di perkemahan itu, lanjut imam itu, adalah merenungkan siapa sesungguhnya pria dalam pelayanan di dalam keluarga dan luar keluarga, serta siapa itu sesama dalam kehidupan sosial , dan merenungkan kasih Tuhan yang telah diterima.
Setiap detik dan menit di lokasi itu sangat bermakna, kata imam itu. Imam itu bukan hanya melihat seorang pria menangis saat mengikuti jalan salib di perkemahan itu, tetapi "saat saya ikut merenungkan sosok Santo Yosef, air mata saya jatuh dan saya menyadari menjalani hidup sebagai imam bukanlah persoalan gampang. Ada begitu banyak tantangan. Tetapi, ketika bercermin pada Santo Yosef yang setia dalam imannya, saya berusaha meneladani imannya itu."
Seorang peserta, Yosef Naimuni, terkesan dan menangis di perhentian ke-12 mendengar narasi yang dibacakan Pastor Josse dan membayangkan Yesus sedang mengalami penganiayaan sadis. "Semoga dengan jalan salib semua pria meninggalkan kebiasaan tujuh dosa pokok yang sering dilakukan dalam hidup," katanya kepada PEN@ Katolik.
Valentino Riki yang menetap di Singapura dan datang khusus untuk perkemahan itu menilai bahwa kegiatan itu sangat positif. Dia menyarankan perkemahan itu dilakukan secara berkala setiap tahun "karena ini menjadi sarana untuk pria Katolik untuk menghayati imannya dengan sungguh-sungguh."
Menurut Andi Janto Singgih Camping Rohani edisi perdana yang digelar dalam rangka HUT ke-5 KPK Paroki Curug itu berhasil. Buktinya, tegasnya, "Thio, mantan warga binaan di Lapas Tangerang yang dilayani oleh KPK Paroki Curug tergerak mengikutinya, bahkan berjanji untuk ikut pelayanan bilamana KPK ke Lapas tempat ia pernah berada selama empat tahun."
Thio asal Kuta Bumi Tangerang yang baru selesai menjalani hukuman akhir Oktober mengatakan kepada PEN@ Katolik bahwa dia tertarik dengan pelayanan KPK dan memang sudah berjanji dalam dirinya untuk mengikuti Camping Rohani itu selesai menjalani hukuman. (PEN@ Katolik/Konradus R. Mangu)
Artikel Terkait:
Komunitas Pria Katolik hadiahkan Verbum Veritatis kepada warga binaan Lapas Pemuda Tangerang
Profesi wartawan mendapat perhatian khusus dalam Gereja Katolik
Ketua KPK Santa Helena ajak anggotanya menjadi Injil hidup melakukan perbuatan baik
Semua foto di bawah ini adalah Dokumen dari KPK Santa Helena Curug: