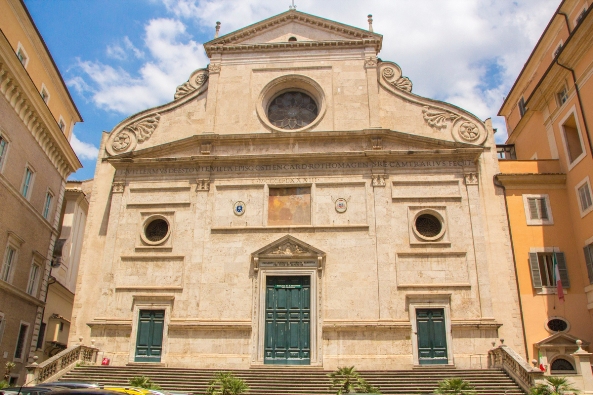 Gereja Stasi Hari 4:
Para ibu dari anak yang belum lahir dan para ibu dari anak-anak yang telah meninggal bisa menemukan perlindungan di sini. Aleteia mengundang Anda melakukan ziarah Prapaskah virtual melalui 42 gereja stasi Roma: satu gereja per hari, dari 17 Februari hingga 11 April.
Pada hari Sabtu setelah Rabu Abu, stasi Prapaskah berada di Basilika Santo Agustinus. Gereja yang ada saat ini dibangun di abad ke-15 dan berdiri di situs bekas gereja Santo Trifonus. Bagian depan gereja itu dibangun dengan balok travertine yang diambil dari Colosseum.
Di sini, pemandangan didominiasi oleh perempuan. Pertama, di dalam basilika kita melihat Perawan Maria, yang di sini dihormati sebagai "Our Lady of Childbirth" (Bunda Maria Persalinan). Devosi itu dimulai tahun 1820 mengikuti sumpah seorang pekerja muda, yang istrinya mengalami kesulitan kehamilan. Sejak saat itu sebuah pelita dinyalakan, untuk rahmat-rahmat yang diterima, di depan patung, dan banyak persembahan ditambahkan seiring waktu. Tahun 1822, Pius VII memberikan indulgensi kepada mereka yang berdoa kepada Bunda Maria di depan patung itu dan mencium kaki patung itu. Kaki yang terbuat dari marmer itu segera aus dan diganti dengan yang perak.
Basilika juga menyimpan jenazah Santa Monica, seorang ibu yang mengabdikan hidupnya untuk pertobatan putranya, Santo Agustinus. Basilika itu dikonsekrasikan kepada Santo Agustinus yang  merupakan salah satu orang kudus terbesar dalam Gereja.
Di sini Anda juga bisa menemukan "Madonna of the Pilgrims" (Maria dari Para Peziarah) salah satu mahakarya Caravaggio paling terkenal dan dikagumi (dan saat itu melanggar kesopanan). Di masa lalu, gereja itu dikenal sebagai satu-satunya di Roma yang menerima pelacur.
Aku datang bukan untuk memanggil orang benar tetapi orang berdosa supaya mereka bertobat. (Lukas 5:32).
(PEN@ Katolik/pcp/Marinella Bandini/Aleteia)
Artikel Terkait:
Yohanes dan Paulus, pejabat-pejabat Romawi yang menjadi martir
Serigala betina atau naga? Gereja San Giorgio di Velabro
Aleteia ajak ziarah Prapaskah virtual melalui 42 gereja stasi di Roma satu gereja per hari
Santa Sabina, tempat Santo Dominikus harus hindari batu yang dilempar oleh iblis