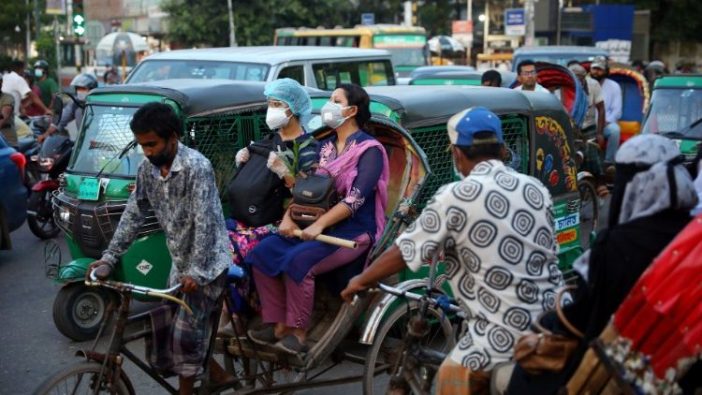 Kantor Aid to the Church in Need (Bantuan untuk Gereja yang Membutuhkan, ACN) dari Inggris telah mengumumkan sejumlah inisiatif untuk membantu Gereja dalam menanggapi pandemi virus corona. Salah satu dari proyek-proyek itu adalah tetap menjaga agar para imam dan religius di Keuskupan Barisal Bangladesh tetap aman dari penyakit saat mereka melakukan pelayanan pastoral bagi orang-orang yang paling terpukul oleh pandemi.
Berbicara kepada ACN, Uskup Barisal Mgr Lawrence Subrato Howlader mengatakan, "Setelah pandemi dimulai, Keuskupan Katolik Barisal segera berupaya berdiri di depan masyarakat agar mereka bisa mengendalikan penyebaran virus corona."
Uskup Howlader menambahkan, "Dengan peralatan pelindung diri (APD), para pastor paroki merasa aman menanggapi panggilan orang sakit dan memberikan viaticum, pergi ke pemakaman. Para religius yang merupakan perawat merasa percaya diri merawat pasien dengan aman dan tanpa menyebarkan virus."
Menurut uskup itu, keuskupan telah berkonsultasi dengan para ahli medis dan setiap paroki akan menerima APD dan obat-obatan.
Tanggal 22 Juli, Bangladesh melaporkan 2.744 kasus Covid-19 baru, sehingga totalnya 213.254. Juga ada 2.751 kematian. Awal bulan ini, Uskup Agung Chittagong, Bangladesh, Mgr Moses Costa meninggal di sebuah rumah sakit di ibukota Dhaka, setelah menderita serangkaian stroke. Dia baru saja pulih dari Covid-19.
Banyak orang di negara itu menderita kesulitan ekonomi yang parah akibat dari lockdown yang diberlakukan untuk membendung penyebaran penyakit itu. Uskup Howlader menjelaskan, orang "tidak bisa pergi kerja dan karena itu, tidak ada gaji yang diberikan kepada mereka. Petani dan pedagang kecil juga dalam kesulitan, karena tidak bisa menjual produk mereka tanpa transportasi. Tanpa penghasilan, keluarga-keluarga kelaparan."
Proyek-proyek lain yang didukung ACN meliputi "bantuan untuk Suster-Suster Hati Kudus Yesus yang membantu umat miskin di daerah pedesaan Uganda selama pandemi, pembinaan novis di Biara Abba Padre Argentina, dan renovasi Gereja Katolik Yunani di Beius, Rumania."(PEN@ Katolik/pcp berdasarkan Vatican News)