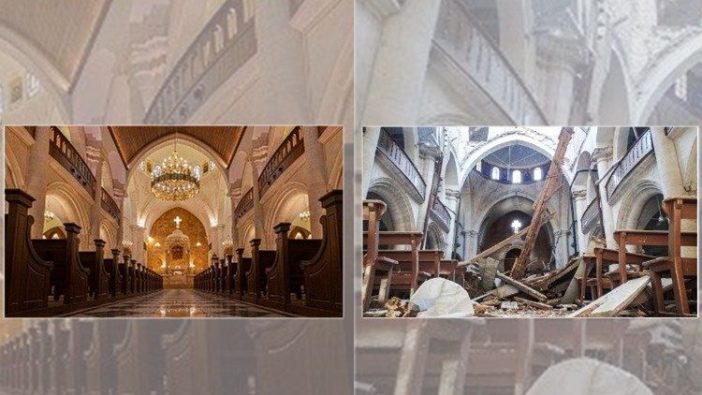 Katedral orang Maronit dengan nama Santa Elia di kota utara Aleppo dibombardir dengan rudal setidaknya tiga kali antara tahun 2012 dan 2016 dan mengalami kerusakan parah saat para jihadis memasuki wilayah Kristen di kota itu tahun 2013. Katedral itu lalu diperbaiki dengan biaya yang sebagian besar diberikan oleh yayasan kepausan Aid to the Church in Need (bantuan untuk Gereja yang membutuhkan, ACN).
Uskup Agung Aleppo Mgr Joseph Tobij mengatakan kepada Vatican News bahwa restorasi dan pembukaan kembali katedral itu punya makna simbolis dan praktis. "Ini tanda harapan dan kelahiran kembali, tidak hanya dalam arti materi tetapi seluruh komunitas, meskipun fakta bahwa jumlah orang Kristen terus berkurang, karena kemiskinan ekstrim terkait sanksi yang dikenakan pada penduduk tak berdaya itu," kata uskup orang Maronite itu.
Pembukaan kembali katedral abad ke-19 itu, 20 Juli 2020, merayakan kesempatan hidup baru bagi umat Kristen di Aleppo karena bangunan itu telah dihancurkan tahun 2013 oleh sekelompok jihadis yang bertujuan menghancurkan semua tanda kekristenan di negara itu.
Mgr Tobij mengatakan, kesulitan utama restorasi itu adalah penggalangan dana dan rekonstruksi atap dari kayu asli. Pengrajin lokal, jelasnya, tidak memiliki keahlian bidang ini sehingga sekelompok arsitek Italia masuk untuk mendesain ulang proyek atap itu.
"Tanpa bantuan ACN dan kemurahan hati para dermawan, kami tidak bisa berdoa lagi dan menyebarkan harapan di hati umat beriman melalui rekonstruksi katedral itu," lanjut Mgr Tobij. "Tidak ada liturgi atau perayaan lain di katedral itu selama delapan tahun. Sekarang, kata uskup agung itu, "kami melanjutkan kehidupan" dan "itulah cara mengatakan kepada orang-orang di Aleppo, di Suriah dan dunia, bahwa kami masih ada. Kami masih ada, meskipun jumlah umat Kristen kami banyak berkurang."
ACN memperkirakan, hanya 30.000 orang Kristen tersisa di kota itu, dibandingkan jumlah penduduk sebelum perang sebanyak 180.000. Aleppo adalah kota terpadat di Suriah sebelum perang, tapi sekarang menjadi kota terbesar kedua setelah ibukota, Damaskus.
Uskup Agung Maronite itu mencatat, sama dengan wilayah dan populasi, katedral itu mengalami kekerasan hebat. Kelahirannya kembali adalah berkat kolaborasi dan solidaritas.
Dijelaskan, pembukaan katedral itu jatuh pada saat Presiden Bashar al-Assad berkuasa di Suriah selama dua puluh tahun. Negara itu, jelas Uskup Agung Tobij, sudah lama ditandai oleh perang dan perpecahan, tetapi mungkin kita berada pada titik balik dengan pembaruan Parlemen.
Dari sudut pandang keamanan, kata Mgr Tobij, situasi telah membaik kecuali di daerah-daerah tertentu, barat laut Suriah. Namun, lanjutnya, orang-orang sekarang jadi sasaran kekerasan lebih buruk daripada bom: sanksi ekonomi dan konsekuensi langsung pada kemiskinan.
Mgr Tobij merujuk sanksi ekonomi "Ceasar Act" baru-baru ini yang dijatuhkan oleh AS yang bertujuan menghalangi aktivitas bisnis asing dengan pemerintah Presiden al-Assad. Orang saat ini, lanjutnya,  merasa tak mampu mengupayakan kebutuhan dasar, termasuk obat-obatan. "Ini membuat mereka sedih dan gelap menghadapi masa depan. Kami tidak tahu apa yang akan terjadi nanti, dan begitu banyak memimpikan Barat – untuk lari diri dari sini dan lari dari kelaparan."
Uskup Agung Tobij mohon doa bagi rakyat Suriah "karena doa berbuat banyak, melampaui manusia dan Tuhan yang bertindak."(PEN@ Katolik/pcp berdasarkan Vatican News)