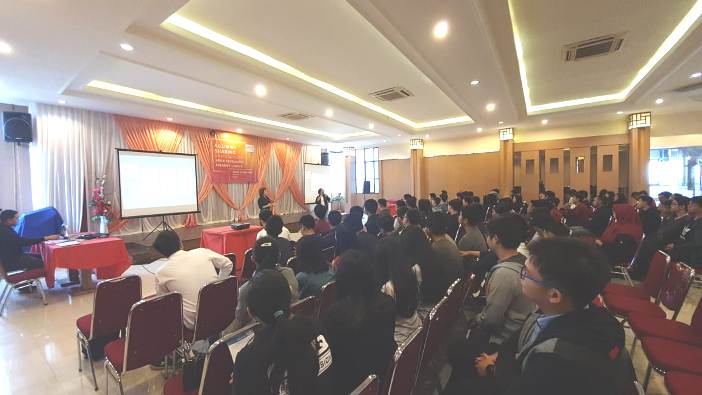 Untuk memajukan SDM masyarakat  di Kalimantan Barat dan meningkatkan kemampuan anak bangsa di provinsi itu, maka STKIP Pamane Talino, milik Keuskupan Agung Pontianak, yang terletak di Ngabang, Landak, mensyukuri wisuda keempat sekolah tinggi itu lewat kerja sama dengan Apple Developer Academy dalam acara "Sharing Alumni and Info Session Apple Developer Academy @ Binus" di sebuah hotel di Pontianak, 13 September 2019.
Acara yang dilaksanakan bersama oleh sekolah tinggi yang dijalankan Yayasan Landak Bersatu yang dipimpin oleh Pastor Johanes Robini Marianto OP dan akademi yang bernaung dalam Universitas Bina Nusantara (Binus) itu menampilkan pembicara utama Paulus Totok Lusida tentang "The purpose of life in facing the future" (tujuan hidup dalam menghadapi masa depan), serta alumni dari Apple Developer Academy @ Binus Brian Sebastian Halim dan Program Manager of Apple Developer Academy @ Binus Nita Felia Pambudi.
Paulus Totok Lusida dalam presentasinya mengajak peserta menggunakan potensi mereka semaksimal mungkin dengan menegaskan bahwa untuk berhasil diperlukan tiga keterampilan yakni keterampilan sebesar 15 persen, keterampilan konseptual sebesar 15 persen dan keterampilan personal dan interpersonal sebesar 70 persen.
Dijelaskan, keterampilan konseptual adalah kemampuan menetapkan tujuan, menganalisis, menyimpulkan, lalu menetapkan strategi, dan membuat rencana eksekusi; sedangkan keterampilan interpersonal adalah kemampuan berinteraksi, bergaul dan berkomunikasi dengan orang lain sedemikian rupa sehingga orang lain merasa nyaman dan dihormati.
Yang paling penting untuk sukses, tegasnya, "bukan seberapa cerdasnya Anda, tetapi betapa baiknya Anda memperlakukan orang lain dan seberapa baik Anda berkomunikasi dengan mereka."
Dalam wawancara di akhir acara, Nita Felia Pambudi menjelaskan tentang Apple Developer Academy yang resmi dibuka 7 Mei 2018 di BSD Green Office Park, Cisauk, Tangerang Selatan, sebagai "sebuah program yang dirancang oleh Apple dari AS bekerja sama dengan beberapa kampus sedunia untuk menciptakan World Class Developers."
Indonesia, jelasnya, adalah negara ketiga yang dituju oleh Apple. "Pertama Brazil, kedua Italia dan ketiga Indonesia, yakni Universitas Binus, satu-satunya di Asia, yang ditunjuk untuk berpartner dalam membangun ekosistem Apple Developer Academy ini," kata Nita.
World Class Developers, jelasnya, adalah orang-orang yang bisa mengidentifikasi masalah-masalah dalam keseharian, misalnya masalah sampah, makanan dan kesehatan, yang punya rasa empati dan leadership yang baik, yang bisa engage dengan lingkungan yang ada dan bisa menciptakan solusi yang berguna untuk masyarakat luas dan berdampak pada masyarakat baik lokal, nasional dan internasional.
Waktu sembilan bulan dalam akademi itu, jelasnya, menuntut peserta untuk berkomitmen belajar dan belajar paling kurang empat jam sehari "untuk mencari masalah itu serta berkolaborasi dengan orang berbagai latar belakang dan akhirnya menciptakan aplikasi atau ekosistem, baik di Handphone, Macbook, IOS dan media lain dari Apple Ecosystem."
Karena akademi itu menciptakan orang dengan critical thinking, leadership, presentation dan technical skill yang baik dalam sisi IT, design dan proses bisnis, maka "lulusan kita adalah orang-orang berkualitas sangat baik yang kini bekerja di perusahaan-perusahaan besar dan ternama di Indonesia sebagai product developers, project manager, ahli IOS dan lain-lain."
Rahmat Winata, Ketua Program Studi Matematika dari STKIP Pamane Talino, mengakui bahwa masukan dari akademi itu sangat berguna bagi program studinya. Dia berharap agar banyak dari 138 sarjana pendidikan, 43 di antaranya sarjana pendidikan matematika, yang diwisuda 14 September 2019 "dapat diterima mengikuti Apple Developer Academy." (PEN@ Katolik/aop/pcp)