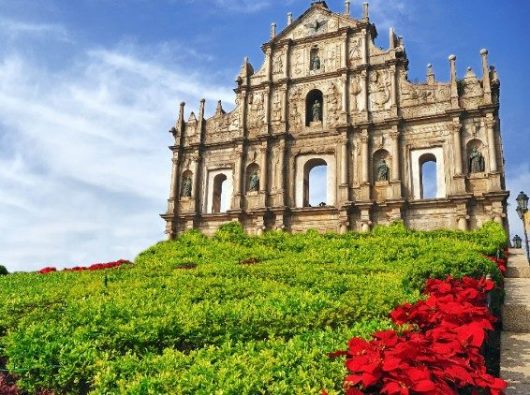 Kongregasi Penginjilan Bangsa-Bangsa Vatikan telah mendirikan sebuah institut di Makau untuk mendorong misi "ad gentes" Gereja Katolik di Asia. Dalam audiensi dengan Paus Fransiskus, 29 Juli 2019, prefek kongregasi itu Kardinal Fernando Filoni menandatangani surat keputusan untuk membangun "Kolese Redemptoris Mater untuk Evangelisasi di Asia," demikian laporan Fides, kantor berita Vatikan. Administrasi lembaga itu dipercayakan kepada Neocatechumenal Way.
Menurut statuta, kolese itu adalah "seminari tinggi, komunitas pendidikan yang bersifat yuridis dan kanonik serta harus mendapatkan sifat yuridis sesuai undang-undang negara" tempat kolese itu didirikan.
Kolese itu akan dibuka bulan September dan bermaksud untuk menanggapi seruan ensiklik Santo Paus Yohanes Paulus II tahun 1990, "Redemptoris Missio" (misi Penebus), yang menunjuk benua Asia sebagai wilayah tempat "misi 'ad gentes' Gereja harus pertama-tama diarahkan" (Nomor 37).
Lembaga itu juga merupakan tanggapan atas seruan Paus Fransiskus, yang dalam Seruan Apostolik, "Evangelii Gaudium," mengajak Gereja untuk "terus" selalu memberitakan Injil.
Makau, bekas koloni Portugis, tempat lembaga itu didirikan, dikembalikan kepada Cina tahun 1999. Makau adalah wilayah administrasi khusus seperti Hong Kong.
Statuta institut, yang bergantung langsung pada Kongregasi Evangelisasi Bangsa-Bangsa itu, akan mempertahankan kontak dengan uskup setempat dan mungkin akan memiliki seksi terpisah di tempat atau negara lain.
Kolese itu bertujuan mempersiapkan para imam masa depan untuk evangelisasi di Asia, dan menemani mereka "dalam kehidupan doa serta kebajikan-kebajikan teologis dan utama, serta komitmen serius pada studi-studi filosofis dan teologis dan pada tindakan evangelisasi berkeliling."
Menurut Prefek Kongregasi Evangelisasi Bangsa-Bangsa, para imam yang dibina dalam institut itu "dapat dikirim ke keuskupan-keuskupan yang meminta," di berbagai wilayah dan negara Asia, sesuai kebutuhan pastoral dari yang memintanya.
"Dalam misi evangelisasi ini," kata statuta itu, "para imam dapat dibantu oleh seluruh keluarga yang dibina dalam Neocatechumenal Way dan mau juga untuk dikirim."
Pembinaan seminari itu akan sejalan dengan instruksi Magisterium Gereja, sementara pembinaan calon menjalin peranserta langsung dan pribadi dalam Neocatechumenal Way.
Neocatechumenal Way atau The Way, yang diprakarsai di Madrid tahun 1964 oleh seniman awam Spanyol, Kiko Argüello, adalah gerakan Katolik yang didedikasikan untuk pembinaan umat Kristiani sebelum dan sesudah pembaptisan dengan dasar Firman Tuhan, Ekaristi dan komunitas Kristen.
The Way melibatkan keluarga yang melalui kesaksian dan kehidupan mereka membantu membangun kehadiran Gereja Katolik di negara-negara di mana Gereja tidak ada atau kecil, atau menghidupkan kembali dan memperkuat kehadiran komunitas Katolik di daerah-daerah yang sulit dan sangat sekuler.
"Kolese Redemptoris Mater untuk Evangelisasi di Asia" dipercayakan secara khusus kepada dua pelindung yakni Maria, Bunda Penebus, dan Santo Joseph, penjaga Keluarga Suci Nazareth. Dalam perjalanan, orang-orang kudus Asia kan dirayakan juga "secara khusus." (PEN@ Katolik/paul c pati berdasarkan Fides)