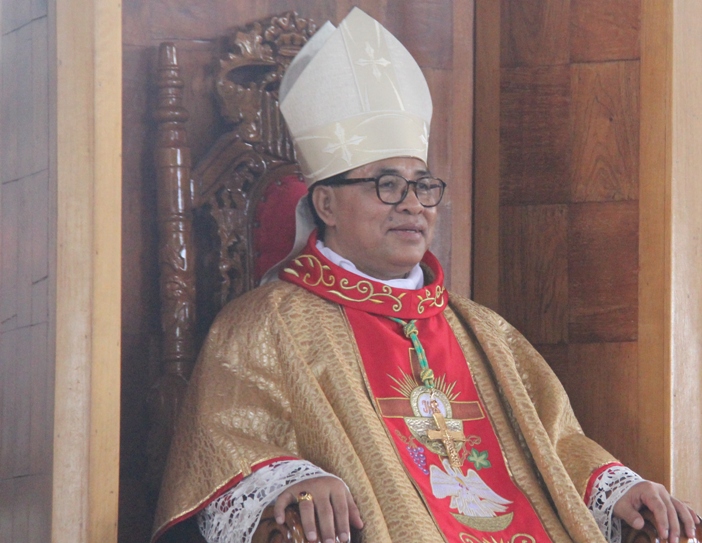 Dalam tahun 2021, Keuskupan Ruteng mencanangkan tata layanan pastoral kasih sebagai fokus utama seluruh reksa pastoral. "Program tata layanan pastoral kasih meliputi pula bidang manajemen pastoral yang integral dan kontekstual. Hendaknya kita berani untuk keluar dari cara kerja yang lama dan rutin. Kita perlu berpastoral 'out of the box'. Artinya aktif dan kreatif membuat perencanaan program pastoral dengan target yang jelas, terukur dan sungguh menjawabi kebutuhan umat," tulis Surat Gembala Prapaska/Paska 2021 Uskup Ruteng.
Dalam surat gembala bertema "Bersukacitalah dalam pengharapan, sabarlah dalam kesesakan dan bertekunlah dalam doa" (Roma 12:12) Mgr Siprianus Hormat menegaskan bahwa yang diperlukan untuk itu adalah "pengorganisasian sumber daya manusia, finansial dan kegiatan pastoral dalam menjalankan reksa pastoral di keuskupan kita."
Selaras dengan itu, lanjut surat gembala uskup baru Ruteng yang terbit pada hari ke-362 tahbisannya sebagai uskup, 16 Maret, perlu monitoring dan evaluasi berkesinambungan sehingga yang diwartakan dan dilakukan "semakin mewujudkan Kerajaan Allah di tanah Congka Sae tercinta ini."
Mgr Siprianus Hormat ditahbiskan uskup 19 Maret 2020 di Katedral Santa Maria Diangkat ke Surga Ruteng oleh Ketua Konferensi Waligereja Indonesia Ignatius Kardinal Suharyo sebagai Penahbis Utama, didampingi Uskup Agung Ende Mgr Vincentius Sensi Potokota dan Uskup Denpasar Mgr Silvester San yang jadi Administrator Apostolik Keuskupan Ruteng selama takhta kosong.
Pertama, jelas uskup, "ingin memperbarui struktur geografis dan teritorial paroki sehingga semakin efektif untuk melayani umat. Stasi dan KBG akan ditata lagi sehingga menjadi 'pusat-pusat misioner' yang mendekatkan pelayanan kasih terhadap umat."
Sejalan dengan itu, selain memperkuat struktur pastoral yakni Dewan Pastoral Paroki sehingga menjadi wadah efektif perwujudan partisipasi umat dalam karya pastoral Gereja, "Kita juga ingin memberdayakan Dewan Keuangan Paroki dalam mengelola harta benda paroki secara terbuka (transparan) dan bertanggungjawab (akuntabel). Dalam kaitan ini kita perlu pula mengurus dokumen-dokumen status legal tanah-tanah paroki dan stasi demi kelancaran pelayanan pastoral umat ke depan."
Mgr Siprianus yakin, "Ziarah kasih ilahi di tengah dunia ini tidak berakhir dalam peristiwa salib, tetapi dimahkotai oleh peristiwa paska. Dalam terang kebangkitan Tuhan, tampaklah bahwa seluruh perjuangan jerih-payah pastoral kita untuk mewujudkan kasih Allah tidaklah pernah sia-sia. Pengharapan kita akan masa depan baru bukanlah mimpi dan ilusi kosong, tetapi dibangun dalam karya agung Allah sendiri. Sebab begitu besar kasih Allah sehingga Dia telah mengaruniakan Anak-Nya yang tunggal, supaya setiap orang yang percaya kepada-Nya tidak binasa, melainkan beroleh hidup yang kekal (Yoh 3:16)."
Dalam situasi sulit pandemi Covid-19, Uskup Ruteng mengajak para imam, biarawan/wati dan umat bersama-sama tekun membingkai harapan itu dengan mencuci tangan, memakai masker, menjaga jarak, menghindari kerumunan dan membatasi mobilisasi dan interaksi, dan "Jangan Takut" menerima vaksin.
Bahkan di awal surat gembala itu ditegaskan, sukacita pengharapan yang disenandungkan Rasul Paulus dalam surat gembalanya kepada umat di Roma sangatlah tepat menjawab situasi kita yang kini sedang menjalani masa Prapaska dalam suasana Pandemi Covid-19.
"Dalam 'kesesakan' akibat pembatasan sosial, dalam penderitaan akibat kehilangan pekerjaan dan kehancuran ekonomi, dalam kematian orang yang dikasihi akibat virus ganas ini, kita diajak untuk tidak kehilangan asa. Sebab, "Kristus Yesus adalah dasar pengharapan kita" (1Tim 1:1)," tulis Mgr Siprianus.
"Melalui salib-Nya, Dia telah berbelarasa dengan hidup kita yang menderita. Tetapi dalam kebangkitan-Nya, Dia telah mengalahkan dosa, penderitaan dan kematian. Dia telah menancapkan "sauh yang kuat dan aman bagi jiwa kita" (Ibr 6:19) serta menerbitkan fajar kehidupan baru bagi kita," tulis Mgr Siprianus yang juga mengaris bawahi bahwa Masa Prapaska adalah saat istimewa untuk kembali membingkai harapan dalam pribadi Yesus, sang Penebus.(PEN@ Katolik/paul c pati)