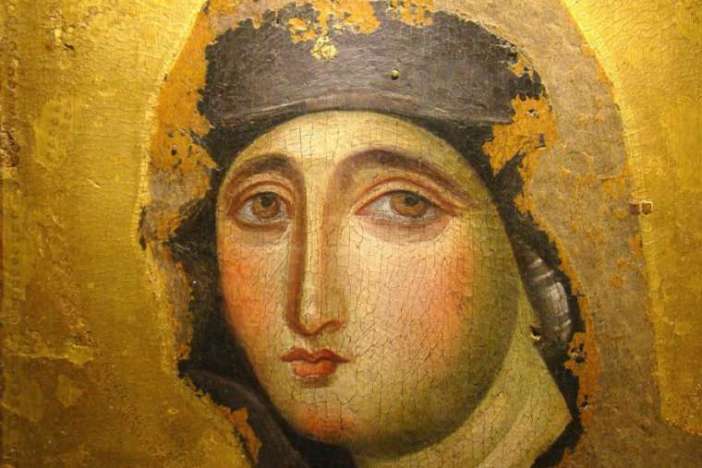 Delapan ratus tahun lalu, Santo Dominikus yang bertelanjang kaki membawa ikon Perawan Maria ini melintasi Roma untuk mempercayakan gambar Maria itu kepada komunitas baru para biarawati tertutup, yang menjaga ikon itu dalam dinding biara mereka hingga hari ini.
Ikon yang dikenal sebagai "Advocata" itu sekarang bisa ditemukan di sebuah kapel kecil di bukit tertinggi Roma, di Gereja Santa Maria del Rosario di Monte Mario. Saat Santo Dominikus membawa ikon kayu limau itu di malam hari Minggu, 28 Februari 1221, dua kardinal yang diutus Paus Honorius III menemani pendiri Ordo Dominikan itu, dan 42 biarawati mengikuti dalam prosesi di belakangnya menuju biara baru mereka.
Dalam 800 tahun sejarah mereka, komunitas suster Dominikan Roma ini hanya berpindah dua kali: sekali di abad ke-16 dan sekali di abad ke-20. Para biarawati sudah berbasis di biara Monte Mario sejak 1931.
Saat ini ada delapan biarawati Dominikan di biara itu, yang ikut Misa Minggu dari belakang kisi-kisi di sebelah kiri altar. Di sebelah mereka, terletak ikon Maria mereka yang berharga, juga di belakang kisi-kisi. Para pengunjung bisa menghormati ikon itu segera setelah Misa.
Biara itu ditutup untuk umum di awal tahun ini setelah semua suster jatuh sakit karena Covid-19, tetapi telah dibuka kembali sejak mereka sembuh.
Bahkan dari balik jeruji kisi-kisi itu, ikon itu memiliki tatapan tajam. Gambar itu berasal dari setidaknya abad ke-7 dan telah dimuliakan selama berabad-abad karena dilukis oleh Santo Lukas.
Sebelum tahun 1221, ikon itu telah disimpan di Biara Santa Maria di Tempulo, dekat dengan Appian Way, setelah selamat dari aksi penolakan dan perusakan gambar-gambar religius di Konstantinopel yang menghancurkan gereja tempat ikon itu sebelumnya berada.
Lokasi ikon itu hari ini, di sebuah biara kecil di atas bukit terjal di luar jangkauan sebagian besar wisatawan, membuatnya relatif tidak diketahui. Setelah sampai di biara itu, pengunjung bisa masuk ke gereja dengan melewati dua lorong sempit.
Paul Badde, penulis "The Face of God: The Rediscovery of the True Face of Jesus," sebuah buku tentang relikui kerudung Veronica, menggambarkan ikon Advocata yang relatif tidak dikenal itu sebagai "cerminan ketersembunyian ilahi itu sendiri."
"Hampir sama tersembunyi dengan Yang Mahakuasa dalam perbuatan penyelamatan-Nya yang besar, dari 'menggelapkan" Bunda Allah hingga kelahiran Putra-Nya di sebuah gua di luar Betlehem. Hampir semua ikon lain di Roma lebih dikenal," komentarnya.
Salah satu ikon Maria yang paling banyak dikunjungi di Roma adalah "Salus Populi Romani" di Basilika Santa Maria Maggiore di pusat kota yang ramai. Paus Fransiskus mengunjungi ikon Maria itu sekembalinya dari perjalanan kepausan.
Benediktus XVI berdoa di depan ikon Advokata saat berkunjung ke biara Monte Mario, 24 Juni 2010. Selama perjalanannya ke biara itu, Benediktus XVI mengatakan kepada para biarawati Dominikan tertutup itu, "Sama seperti jantung yang mengalirkan darah dan menjaga seluruh tubuh tetap hidup, demikian juga kehidupan tersembunyi kalian bersama Kristus dalam doa membantu menopang Gereja."(PEN@ Katolik/pcp/Courtney Mares/CNA)