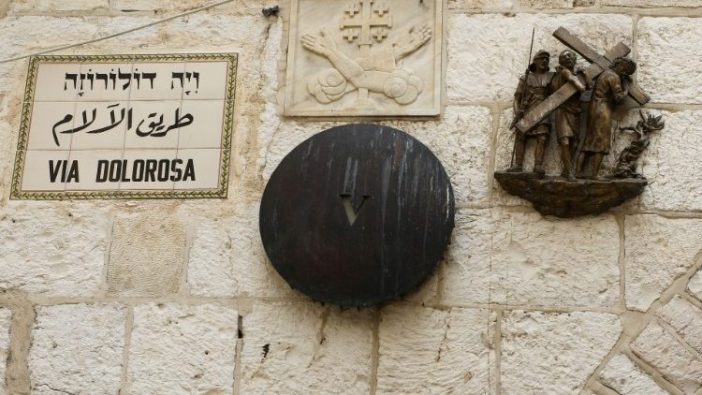 Prapaskah tahun ini berlangsung saat dunia terus berjuang melawan pandemi Covid-19, yang membawa kesulitan yang belum pernah terjadi sebelumnya, termasuk gangguan perjalanan para peziarah ke Tanah Suci selama periode ini.
Mengingat situasi ini, para Kustodi Fransiskan Tanah Suci meluncurkan proyek Jalan Salib virtual "Hic – On the Way of the Cross" bagi peziarah selama Prapaskah, karena sudah dua tahun berturut-turut Tanah Suci tidak bisa diakses akibat keadaan darurat kesehatan yang sedang berlangsung.
Proyek itu digagas oleh para Fransiskan setelah sadar bahwa ziarah tahun ini tidak bisa berlangsung. Tujuan proyek itu adalah memberikan cara bagi umat beriman untuk bisa ikut dalam Jalan Salib yang akan menghubungkan mereka ke Via Dolorosa di Yerusalem.
Dalam wawancara dengan Vatican News, Kustos Tanah Suci Bruder Francesco Patton OFM mengatakan, karena para peziarah tidak bisa datang secara fisik ke Tanah Suci untuk berjalan di Via Dolorosa setiap hari Jumat, para Fransiskan berpikir untuk membantu mereka melakukannya secara virtual, karena tahu bahwa "di seluruh dunia, banyak mata dan hati tertuju ke Yerusalem."
Ini perjalanan mencakup renungan di stasi-stasi Jalan Salib tradisional, dengan meditasi yang bisa membantu "peziarah setia yang tersebar di seluruh dunia menemukan makna terdalam dari hidup mereka, dari keberadaan mereka," jelas Kustos itu. Ini juga "pesan harapan di masa seperti yang kita jalani ini – masa sulit dan penderitaan," ini memberikan perspektif Paskah karena itulah arti Jalan Salib."
Dalam 13 video pendek dari proyek Jalan Salib itu, seorang biarawan dari sebuah tempat ziarah Tanah Suci Fransiskan yang berbeda akan menceritakan pesan tentang setiap stasi Jalan Salib itu dalam bahasanya sendiri, dan memberikan waktu untuk meditasi.
Video-video itu difilmkan di berbagai lokasi termasuk di Suriah, Yerusalem, Yunani dan Tel Aviv, Israel. Bahasa-bahasa yang digunakan oleh para biarawan itu adalah Inggris, Tamil, Tagalog, Indonesia, Jerman, Italia, Spanyol dan Mandarin.
Bruder Patton menjelaskan, setiap video secara khusus terkait dengan tempat-tempat di mana Yesus berjalan dalam Jalan Salib. Video-video itu, lanjutnya, diperkaya dengan gambar-gambar dan detail-detail yang membantu orang memahami tempat-tempat yang dirujuk dalam Injil serta spiritualitas dari tempat-tempat itu, agar membawa misteri Jalan Salib itu ke masa kini.
Setelah kampanye vaksinasi melawan virus Covid-19 yang dimulai di banyak negara, Bruder Patton berharap Paskah 2021 akan dirayakan dengan cara lebih khusyuk daripada tahun sebelumnya. Upaya vaksinasi, jelasnya, telah dimulai di kalangan penduduk Tanah Suci tetapi langkah pencegahan masih ada di negara itu. Ketidakhadiran para peziarah, lanjutnya, berdampak ekonomi pada banyak pemilik bisnis, terutama di Betlehem dan Yerusalem.
"Yang coba kami lakukan untuk peziarah adalah menyebarkan sebanyak mungkin pesta terkait masing-masing tempat suci." Dengan cara ini, lanjutnya, "peziarah virtual yang telah mengunjungi Tanah Suci, bisa mengunjungi tempat-tempat di mana iman mereka tumbuh." Dalam Pekan Suci, semua momen terpenting akan disiarkan, termasuk Triduum Paskah di Makam Suci, dengan perayaan Jam Suci di Getsemani dan apa yang disebut Pemakaman Yesus di Makam Suci.
Sepanjang tahun, lanjut Bruder Patton, akan ada serangkaian perayaan "agar umat beriman dari seluruh dunia, dan para peziarah, merasakan berhubungan dengan tanah ini, dengan harapan mereka akan segera kembali."
Video akan diposting setiap hari Selasa dan Jumat hingga 30 Maret, Selasa Pekan Suci. Video-video itu bisa diakses di halaman media sosial Kustodi Tanah Suci.(PEN@ Katolik/paul c pati/Vatican News)