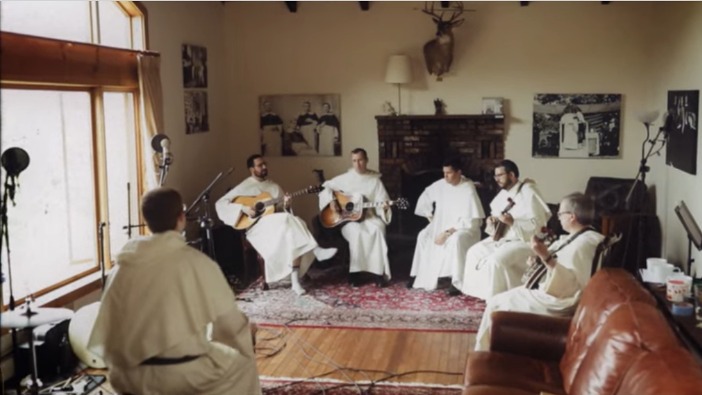 The Hillbilly Thomists, band bluegrass dari para Biarawan Dominikan (Ordo Pewarta) merilis album kedua. Karya berjudul "Living for the Other Side" itu memperluas album mereka di tahun 2017. Rekaman tahun kedua ini menunjukkan pertumbuhan luar biasa grup itu, dari bakat musik hingga keahlian menulis lagu. Kalau fokus album pertama pada standar bluegrass, Living for the Other Side penuh dengan lagu-lagu orisinal. Grup itu gunakan karunia setiap anggota untuk memberikan kualitas unik pada setiap lagu.
Lima lagu pertama dalam Living for the Other Side sangat bagus. Album dibuka dengan lagu acapella, "Keep Your Lamps Trimmed," yang penuh keselarasan. Disusul lagu kedua dengan irama cepat "Our Help Is in the name of the Lord." Ritmenya seperti kereta yang digerakkan oleh banjo dan drum. Dengar lagunya di sini
Dalam wawancara dengan Bluegrass Today, Pastor Jonah Teller OP bicara tentang karya itu. "Ini tidak sepenuhnya bluegrass (jujur, kita tidak bisa semua bermain cukup cepat untuk itu!), tapi kami harap Anda menikmatinya," kata imam dari kelompok The Hillbilly Thomists itu. Kami duga kutipan ini terdorong oleh kerendahan hati imamat, karena "Our Help Is in the name of the Lord," cukup cepat dan pasti membuat orang menari.
Lagu ketiga dalam album ini menjadi favorit kami. Lagu berjudul "Bourbon, Bluegrass, and the Bible" itu dengan cermat menghadirkan nuansa bourbon melalui riff banjo. Banyo memberikan kesan tersendiri saat seseorang berjalan tertatih-tatih saat mencoba berjalan, yang didukung oleh vokal yang hampir dinyanyikan secara karakter. Itu hanya lagu yang sangat menyenangkan yang akan hidup di kepala seseorang sepanjang hari.
Lagu berikutnya, "Give Me a Drink," juga tentang kehausan, tetapi lebih merupakan kehausan yang dalam akan kepuasan iman. Dengan vokal mendayu-dayu yang indah, lagu kerinduan ini pasti akan menjadi standar dalam genre itu. Melodi aslinya dibuat santai dan terdengar sangat alami sehingga kami yakin itu lagu klasik.
"Heaven or Tennessee," lagu kelima, memiliki vokal menawan untuk mengiringi lelucon kecil lagu itu. Dengan iringan barisan banjo yang kembali dibuat dengan baik, mereka merinci berbagai kegiatan iman di kota-kota Tennessee. Inilah lagu pertama di album yang ditulis dalam format himne, dan kami akan sangat suka mendengarnya dinyanyikan dalam bentuk paduan suara.
Itu baru lima lagu pertama. Tapi ada sembilan lagu luar biasa lainnya sedang menanti di Living for the Other Side. "Lead Me by the Hand" memiliki melodi manis dengan paduan suara yang luar biasa. Namun, memasukkan himne abadi "I Heard the Voice of Jesus Say" membuat kami merinding. Kami sangat menghargai "Chasing Money No More," sebuah judul yang sangat cocok untuk para anggota ordo medicant (pengemis), yang semuanya telah mengucapkan kaul kemiskinan.
Living for the Other Side adalah mahakarya musik bluegrass berdurasi 56 menit. Band ini unggul dalam menciptakan musik yang menempatkan iman di garis depan semua materi mereka. Band ini layak dapat peringkat di antara band-band besar lain di genre ini, seperti Bela Fleck dan Flecktones serta Ricky Scaggs.(PEN@ Katolik/pcp/J-P Mauro/Aleteia)
Dengarkan album lengkapnya di Spotify.