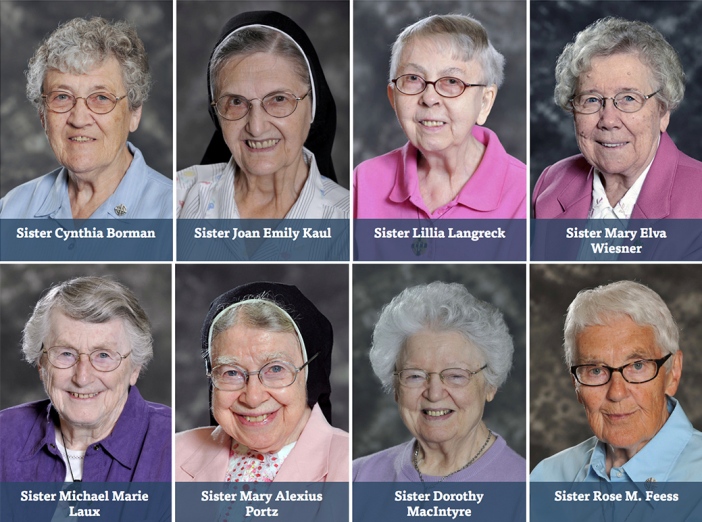 Sebuah biara Negara Bagian Wisconsin, AS, kehilangan delapan suster hanya dalam satu minggu, empat di antaranya meninggal di hari yang sama. Biara School Sisters of Notre Dame di Elm Grove, sekitar 10 mil sebelah barat Milwaukee, mengkonfirmasi kematian mereka pada NBC afiliasi TMJ4.
Suster Debra Sciano, pemimpin provinsi School Sisters of Notre Dame Central Pacific, mengatakan kepada TMJ4 bahwa semua delapan suster itu adalah pendidik dan "teladan" yang mengabdikan hidup mereka untuk komunitas. "Bagi saya, suster-suster ini adalah tokoh-tokoh kebijaksanaan, wanita-wanita yang telah saya kenal sepanjang 40 tahun lebih saya di komunitas itu," kata Suster Sciano.
"Setiap suster kami sangat penting, tidak hanya bagi kami karena kami merasa mereka telah menyentuh banyak kehidupan yang tidak akan pernah kita tahu." Suster-suster yang meninggal karena Covid-19 di usia antara 80-90 tahun itu adalah Joan Emily Kaul, Lillia Langreck, Cynthia Borman, Michae Marie Laux, Mary Alexius Portz (keempatnya meninggal 14 Desember), Dorothy Macintyre (11 Desember), Rose M Feess, dan Mary Elva Wiesner (9 Desember). ABC30 melaporkan 20 Desember bahwa suster kesembilan meninggal di kampus terpisah.
Dalam sebuah posting di Facebook, Sekolah Notre Dame di Milwaukee mengatakan, Suster Rose Feess, yang mengajar di sana lebih dari 15 tahun, "dikenal karena keterampilan mengajar, terutama perhatian pada tata bahasa dan tulisan, iman, kecerdasan yang tajam, dan cintanya pada kucing."
Menurut laporan CNN, Suster Lillia Langreck "sangat terlibat dalam upaya keadilan rasial dan sosial" selama 60 tahun terakhir, termasuk gerakan-gerakan Milwaukee untuk perumahan dan bus terintegrasi.
Masih ada 88 suster di biara Elm Grove, yang dulunya adalah panti asuhan tapi sekarang menjadi rumah pensiunan. Komunitas itu mengatakan sedang mengisolasi dan mengetes para suster dua kali seminggu.
Sebelum Natal, Suster Sciano mengatakan bahwa komunitas religius itu akan merayakan Natal dengan berat hati. Dia mengatakan kepada TMJ4 bahwa mereka akan "berupaya merayakan kehidupan para wanita ini saat kami berduka atas hidup mereka. Mereka akan sangat kehilangan."(PEN@ Katolik/pcp/berdasarkan John Burger/Aleteia)