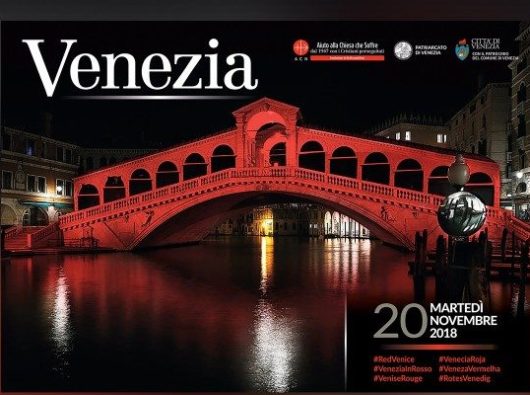 Sekretaris Negara Vatikan, Kardinal Pietro Parolin, telah mengirim pesan atas nama Paus Fransiskus kepada Patriark Francesco Moraglia dari Venesia yang menyatakan dukungannya untuk acara di Venesia 20 November malam dengan tajuk #RedVenice, yang disponsori oleh Patriarkat Venesia, badan amal Katolik yang membantu umat Kristiani yang dianiaya di seluruh dunia yang bernama Aid to the Church in Need (ACN), dan kotamadya Venesia.
Selama acara #RedVenice, sejumlah lanskap dari kota laguna yang terkenal itu, termasuk perairan Grand Canal, akan bermandikan cahaya berwarna merah, yang melambangkan warna darah umat Kristiani yang teraniaya, demikian laporan Robin Gomes dari Vatican News.
"Bapa Suci mengirim salam sayang kepada orang muda yang ikut serta dalam ziarah keuskupan yang dipromosikan oleh Patriarkat Venesia dan ACN, untuk membuat opini publik peka dengan drama sejumlah umat Kristiani yang dianiaya karena iman mereka," tulis Kardinal Parolin dalam pesan itu.
Kardinal itu mengatakan, Paus berharap "prakarsa itu akan membangkitkan perhatian semua orang terhadap persoalan diskriminasi yang diderita umat Kristiani di banyak bagian dunia."
Pesan tersebut mencatat ada banyak negara yang hanya memaksakan satu agama di mana terjadi penganiayaan kejam atau ejekan sistematis terhadap murid-murid Yesus, dengan menyangkal kebebasan beragama, yang menurut Paus Fransiskus, merupakan hak asasi manusia mendasar yang harus diakui karena itu mencerminkan martabat tertinggi manusia.
Kardinal Parolin mengatakan, Paus mendorong agar kita berdoa supaya umat Kristiani yang menghadapi kesulitan bisa membuktikan diri mereka kuat menghadapi cobaan, seraya merasakan kedekatan seluruh umat Katolik, sehingga mereka bisa menjadi benih kehidupan yang baru dan harapan bagi Gereja.
Bapa Suci mendorong semua peserta inisiatif #RedVenice "untuk menjadi pembangun rekonsiliasi dan perdamaian di mana-mana."
Lanskap paling terkenal di Roma, Colosseum, disinari cahaya merah tanggal 24 Februari tahun ini dalam acara serupa sebagai tanda solidaritas dengan semua orang yang teraniaya karena iman mereka.
Acara #RedVenice di Venesia akan memusatkan perhatian pada wanita yang menderita karena imannya, terutama Asia Bibi, wanita Katolik yang terpidana mati sejak 2010 yang dibebaskan dari penistaan ​​agama oleh Mahkamah Agung negara itu tanggal 31 Oktober 2018.
Dalam pesan video yang dikirim ke ACN  di malam #RedVenice, putri Asia Bibi, Eisham Ashiq, berterima kasih untuk semua orang atas doa-doa dan upaya-upaya mereka untuk ibunya. Dia berharap keluarganya akan akhirnya bersatu kembali dan hadir bersama dalam acara Venesia itu.(PEN@ Katolik/paul c pati berdasarkan Vatican News)
Artikel Terkait:
Colosseum berubah menjadi merah hari ini guna mengenang umat Kristiani yang teraniaya