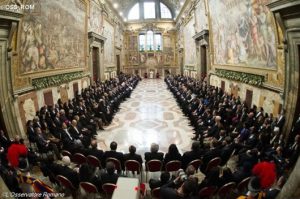 Paus Fransiskus minta kepada masyarakat internasional untuk mengambil langkah-langkah konkret guna mewujudkan perdamaian dan melindungi semua korban peperangan dan penganiayaan. Dalam sambutan tradisional untuk anggota-anggota korps diplomatik yang terakreditasi untuk Takhta Suci, tanggal 12 Januari 2015, Paus Fransiskus memfokuskan serangkaian masalah mendesak yang berasal dari budaya penolakan (culture of rejection) "yang memutuskan ikatan-ikatan manusia yang terdalam dan paling otentik, sehingga mengganggu masyarakat dan menimbulkan kekerasan dan kematian."
Berbicara dalam bahasa Italia dengan wakil-wakil dari 180 negara yang memiliki hubungan diplomatik dengan Tahta Suci, Paus mengatakan bahwa kita melihat bukti menyakitkan dari konsekuensi budaya penolakan ini "dalam peristiwa-peristiwa yang setiap hari dilaporkan dalam berita-berita, paling tidak pembunuhan tragis yang berlangsung di Paris beberapa hari yang lalu."
Paus menyebutkan bahwa di seluruh dunia berkali-kali terlintas "mentalitas penolakan yang tragis" serta "budaya perbudakan" yang berwujud dalam "penyebaran konflik yang tidak pernah berakhir." Dalam kaitan ini, Paus berbicara tentang Ukraina, Timur Tengah (khususnya dari Tanah Suci) dan penyebaran terorisme fundamentalis di Suriah dan Irak. "Fenomena ini merupakan konsekuensi dari budaya sekali pakai langsung buang yang diterapkan pada Allah."
Dalam pidato tahunan yang kini dikenal sebagai sambutan "State of the World" itu, Paus Fransiskus berharap agar para pemimpin agama, politik dan intelektual, terutama dari kaum Muslim, akan mengecam semua interpretasi agama yang fundamentalis dan ekstremis yang berusaha membenarkan tindakan-tindakan kekerasan seperti itu.
Fundamentalisme agama, jelas Paus "bahkan sebelum melenyapkan manusia dengan pembunuhan mengerikan, menyingkirkan Allah sendiri, seraya memalingkan-Nya menjadi dalih ideologis semata."
Dan kekerasan dan fundamentalisme di Nigeria menjadi daftar pembicaraan Paus Fransiskus berikutnya. Fokusnya pada fenomena tragis penculikan dan perdagangan manusia.
Paus kemudian menyatakan keprihatinan terhadap Libya, Republik Afrika Tengah, Sudan Selatan, Tanduk Afrika, Republik Demokratik Kongo, di mana "aksi-aksi brutal menuai korban dari kalangan kaum miskin dan masyarakat yang paling rentan."
"Setiap konflik dan perang," kata Paus, "merupakan gambaran dari budaya sekali pakai buang karena kehidupan manusia sengaja ditindas oleh mereka yang berkuasa."
Sambutan panjang Paus Fransiskus itu tidak lupa menyebutkan dampak dari budaya penolakan pada para korban Ebola di Liberia, Sierra Leone dan Guinea, atau pada kejahatan pemerkosaan "yang menghina martabat perempuan" di seluruh dunia, atau pada kehidupan sejumlah pengungsi dan orang terlantar yang berisiko dibuang, termasuk anak-anak tanpa pendamping.
Dalam serangkaian seruan kepada para pembuat undang-undang dan pemerintah agar mengambil tanggung jawab dan melakukan segala upaya untuk menyelesaikan masalah kemanusiaan yang gawat ini seraya melindungi hak-hak warga negara dan meningkatkan perubahan sikap, Paus tidak lupa menyebutkan banyak "orang buangan tersembunyi" yang hidup di dalam rumah-rumah kita dan di dalam keluarga-keluarga kita: orang lanjut usia, orang cacat dan kaum muda yang "terbuang saat prospek konkret kerja mereka untuk membangun masa depan ditolak."
Seraya mengangkat kesepakatan terbaru yang dibuat oleh Amerika Serikat dan Kuba untuk membangun kembali hubungan setelah lebih setengah abad, Paus Fransiskus mengakhiri sambutan dengan mengenang kata-kata Paus Paulus VI saat mengunjungi PBB lima puluh tahun yang lalu. Waktu itu paus itu mengungkapkan bahwa dari abu tragedi besar Perang Dunia Kedua, "timbullah keinginan baru untuk dialog dan perjumpaan yang menginspirasi (terbentuknya) PBB" dan menyetujui kesepakatan dan "sumpah untuk mengubah masa depan dunia: jangan pernah lagi ada perang, jangan pernah lagi ada perang!"
"Ini juga harapan saya sendiri yang diisi dengan doa untuk tahun baru ini," kata Paus Fransiskus, yang juga akan melihat "kelanjutan dari dua proses penting: penyusunan Agenda  Pembangunan Pasca 2015" dan "penyusunan Perjanjian Perubahan Iklim yang baru."
Yang tidak terpisahkan dari semua ini, kata Paus, adalah "perdamaian, yang bahkan lebih daripada berakhirnya semua peperangan, adalah buah dari pertobatan tulus." (pcp berdasarkan laporan Linda Bordoni dari Radio Vatikan)