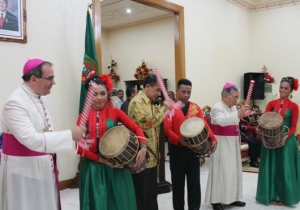 Setelah dibuka dengan pemukulan tifa oleh Duta Vatikan untuk Indonesia Uskup Agung Antonio Guido Filipazzi di rumah dinas Gubernur Maluku Said Assagaff, 1 Oktober 2014 para imam diosesan  atau praja (pr) dari seluruh Indonesia yang menjadi peserta Musyawarah Nasional (Munas) Unio Indonesia XI di Ambon berdiskusi tentang misi, dialog dan perdamaian di Islamic Center, Ambon.
Setelah menjadi pembicara utama dan pertama dalam munas itu, Uskup Agung Antonio Guido Filipazzi mengatakan kepada Paul C Pati dari PEN@ Katolik yang juga mengikuti rangkaian munas itu bahwa yang menjadi penekanan presentasinya adalah tentang perlunya identitas untuk memulai dialog seperti yang ditekankan oleh Paus Fransiskus dalam pertemuan dengan para uskup Asia di Seoul 17 Agustus 2014.
Saat itu, kata Mgr Filipazzi, Paus menegaskan bahwa "kita tidak bisa terlibat dalam dialog yang sejati kalau kita tidak menyadari identitas kita sendiri."  Kalau identitas seseorang tidak disadari, lanjut uskup agung itu, maka bahaya yang akan datang berbentuk relativisme, superficiality dan kurangnya semangat  misionaris, "maka saya menekankan poin yang menurut saya sangat penting ini, karena dialog, misi dan perdamaian bisa kita lakukan, tetapi yang penting adalah pertanyaan 'siapakah kita' karena kita akan melakukan sesuatu seperti adanya kita sendiri."
Paus juga menegaskan saat itu bahwa tak seorang pun bisa melakukan dialog sesungguhnya kecuali dia mampu membuka hati dan pikirannya dalam empati dan penerimaan yang tulus dengan siapa pun yang diajak bicara. "Rasa identitas sendiri yang jelas dari seseorang dan kapasitas untuk empati merupakan titik berangkat untuk semua dialog. Kalau kita mau berbicara bebas, terbuka dan bermanfaat bagi orang lain, kita menyadari benar siapakah kita, apa yang telah Allah lakukan bagi kita, dan apa yang Dia minta dari kita."
Berharap agar munas yang berlangsung tanggal 1-8 Oktober 2014 itu bisa memperkuat identitas para imam dan dengan demikian memperkuat misi mereka di dunia, karena mereka berkarya bukan hanya untuk umat Katolik tetapi untuk semua orang, Duta Vatikan mengatakan bahwa dia meminta mereka untuk memberikan perhatian besar bagi pembinaan di seminari-seminari.
"Kalau menghendaki masa depan lebih baik, kita harus mempersiapkannya sekarang dengan karya pembinaan di seminari-seminari," kata Duta Vatikan seraya meminta para frater untuk memahami bahwa pembinaan atau formasi bukan hanya saat belajar dan melaksanakan kerasulan tetapi juga merupakan saat "pembinaan spiritual dan manusiawi yang sangat penting."
Nuncio meminta para imam agar memperhatikan diri mereka sendiri, kehidupan spiritual mereka, pengetahuan teologi mereka serta kelakuan mereka. "Mereka bisa melakukan banyak hal, tetapi kalau  keberadaan mereka tidak seperti yang seharusnya, semua karya mereka akan sulit dilanjutkan."
Duta Vatikan menyambut baik tema munas itu, "karena godaannya adalah mengatakan tidak bisa melakukan misi apa pun karena kita mau berdialog. Keduanya berjalan bersama dan keduanya membantu menghadirkan keadilan dan perdamaian. Membawa Yesus atau membawa Injil, tentunya, adalah membawa perdamaian, dan di pihak lain, dialog itu adalah sebuah cara untuk memahami dan untuk bekerja sama, serta juga sebuah cara untuk mencapai perdamaian dan keadilan."
Mengomentari diskusi yang dilaksanakan di Islamic center,  Uskup Agung Filipazzi mengatakan bahwa adalah normal kalau orang Indonesia yang meyakini Pancasila aling menghormati. "Namun, saya mau mengatakan bahwa itulah buah karya Gereja Katolik di Ambon, khususnya Uskup Mandagi, karena mereka telah berbuat banyak demi saling pemahaman di kalangan kelompok dan agama berbeda. Kini mungkin juga dilaksanakan pertemuan seperti munas para imam diosesan itu di Islamic center, karena itu sudah disiapkan selama banyak tahun dengan dialog dan kerja sama."
Sesi kedua hari itu dihadiri juga oleh sekitar 300 orang dari berbagai agama. Bersama para uskup dan imam diosesan mereka berbicara tentang misi, dialog dan perdamaian, setelah mendengarkan sharing pengalaman Uskup Amboina Mgr Petrus Canisius Mandagi MSC, Pastor Neles Tebay, Pendeta John Ruhulesin, dan H Idrus Tukan, sebagai ketua MUI Maluku, tentang pengalaman mereka khususnya saat konflik yang melanda Ambon sejak 1999 hingga 2002.
Pembukaan munas dilakukan pertama-tama dalam Misa di Gereja Katedral Ambon 1 Oktober 2014 yang dilengkapi sambutan Ketua Unio Keuskupan Amboina, Ketua Unio Indonesia dan Ketua Unio Internasional. Acara pembukaan dilanjutkan dengan acara seremonial di Kediaman Gubernur Maluku.  Setelah sambutan Mgr Mandagi MSC, Dirjen Bimas Katolik Indonesia, dan Gubernur Maluku, Duta Vatikan menyampaikan sambutannya yang diikuti pemukulan tifa. Pemukulan tifa didampingi Gubernur Ambon, Mgr Mandagi, Ketua Unio Indonesia 2011-2014 Pastor Dominikus Gusti Bagus Kusumawanta Pr, dan Ketua Panitia Munas Unio XI Pastor Agustinus Arbol Pr.
Selain Ketua Internasional Apostolic Union of the Clergy (UAC) Mgr Giuseppe Magrin dari Roma, Uskup Emeritus Ketapang yang menjadi Pendiri dan Penasehat Unio Indonesia Mgr Blasius Pujaraharja Pr, serta Mgr Mandagi, hadir juga Uskup Agung Pontianak Mgr Agustinus Agus Pr, Uskup Agung Makassar Mgr Yohanes Liku Ada' Pr, Uskup Agung Palembang Mgr Aloysius Sudarso SCJ, Uskup Agung Ende Mgr Vincentius Sensi Potokota Pr, Uskup Manado Mgr Joseph Suwatan MSC, Uskup Purwokerto Mgr Julianus Kemo Sunarko SJ, Uskup Manokwari-Sorong Mgr Datus Hilarion Lega Pr, Uskup Denpasar Mgr Silvester Tung Kiem San Pr, Uskup Banjarmasin Mgr Piet Timang Pr, Uskup Surabaya Mgr Vincentius Sutikno Wisaksono Pr, dan Uskup Timika Mgr John Philip Saklil Pr.
Mengomentari kesiapan umat Muslim dan Protestan dalam menyambut dan berdiskusi dengan 123 imam diosesan se-Indonesia dan 13 uskup, Mgr Mandagi mengarisbawahi perkataan Gubernur Maluku dan Bupati Ambon bahwa "Ambon sudah damai." (paul c pati)