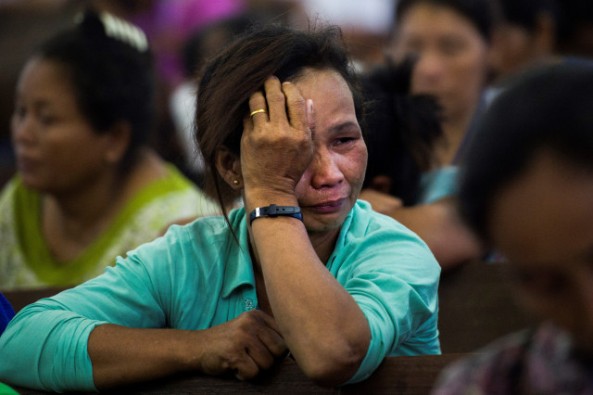 Menyusul kudeta militer di Myanmar, Konferensi Waligereja Myanmar menyampaikan seruan perdamaian kepada pihak-pihak yang bertikai dan masyarakat internasional. "Kami sedang berjalan melalui saat-saat paling menantang dalam sejarah kami," tulis para uskup dalam pernyataan 4 Februari, yang diterima oleh Aid to the Church in Need (ACN).
Pernyataan itu ditandatangani ketua konferensi Uskup Agung Yangon (Rangoon) Kardinal Charles Maung Bo dan sekretaris jenderal konferensi Uskup Pembantu Yangon Mgr Uskup John Saw Yaw Han.
Para uskup mengimbau rakyat Myanmar untuk tetap tenang meski ada "peristiwa-peristiwa tak terduga dan mengejutkan" dan menahan diri untuk tidak melakukan kekerasan. "Kita telah menumpahkan cukup banyak darah." Para uskup mengingatkan rakyat bahwa ada juga bentuk-bentuk protes tanpa kekerasan.
Kepada para dokter dan penyedia layanan kesehatan, yang melakukan aksi mogok guna memprotes tindakan militer, konferensi memohon, "Kita sedang menjalani masa pandemi. (…) Jangan tinggalkan rakyat kalian yang butuh bantuan saat ini!"
Dalam pernyataannya, para uskup bertanya kepada militer, yang bernama Tatmadaw di Myanmar, apa yang salah selama beberapa tahun terakhir saat negara itu mengalami demokratisasi. "Apa kurang dialog antara otoritas sipil terpilih dan Tatmadaw?" Tuduhan-tuduhan penyimpangan pemungutan suara pada pemilihan parlemen bulan November yang dilontarkan oleh militer, dapat diselesaikan "dengan dialog di hadapan pengamat netral."
"Sekarang kalian menjanjikan demokrasi lebih besar, ​​setelah investigasi dan pemilihan lain. Rakyat Myanmar lelah dengan janji-janji kosong," kata para uskup seraya bertanya kepada militer rencana mereka untuk mendapatkan kepercayaan rakyat.
Konferensi itu menekankan, langkah penting ke arah ini adalah pembebasan anggota-anggota dari bekas partai pemerintah, NLD (Liga Nasional untuk Demokrasi), dan tahanan-tahanan lain. "Kalian menjanjikan demokrasi. Mulailah dengan melepaskan mereka. Dunia akan memahami kalian."
Para uskup memasukkan pernyataan pribadi kepada mantan kepala otoritas sipil dan pemenang Hadiah Nobel Perdamaian, Aung San Suu Kyi, yang juga ditahan oleh militer dan sekarang menghadapi tuduhan kejahatan ekonomi.
"Anda akan selalu menjadi suara rakyat kami. (…) Anda adalah Amay Suu [Ibu Suu] bagi bangsa. Kebenaran akan menang," kata para uskup. Konferensi itu juga menekankan, "kejadian ini terjadi karena kurang dialog dan komunikasi serta kurang saling menerima. Tolong dengarkan orang lain."
Akhirnya, para uskup  berseru dan berterima kasih kepada masyarakat internasional atas perhatian menanggapi peristiwa baru-baru ini. Namun, para uskup juga memasukkan kata-kata peringatan untuk mencegah reaksi dini. "Sanksi dan kecaman tidak membawa banyak hasil, malah menutup pintu dan menutup dialog." Sanksi ekonomi akan "membuat jutaan orang jatuh miskin."
Negara lain, jelas para uskup, perlu memahami situasi dan sejarah khusus Myanmar. "Melibatkan para aktor dalam rekonsiliasi adalah satu-satunya jalan," kata para uskup. "Perdamaian itu mungkin. Perdamaian adalah satu-satunya cara. Demokrasi adalah satu-satunya cahaya pada jalan itu."
Malam 1 Februari, militer negara itu yang sebelumnya dikenal sebagai Burma merebut kembali kekuasaan melalui kudeta, mengakhiri periode sepuluh tahun masa perkenalan reformasi demokrasi. Pihak militer mengklaim kudeta itu dilakukan karena dugaan penyimpangan dalam pemilihan parlemen bulan November.
Aung San Suu Kyi memenangkan pemilu dengan mayoritas kuat. Menurut para pengamat pemilu, bukti itu tidak mendukung dugaan-dugaan militer. Angkatan bersenjata telah mengumumkan keadaan darurat di negara Asia Tenggara itu untuk jangka waktu satu tahun. Ini akan diikuti pemilihan. Namun, para pengamat meragukan hal itu akan terjadi. AS dan Eropa mengancam akan menjatuhkan sanksi.
Menurut laporan Kebebasan Beragama di Dunia yang diterbitkan ACN, sekitar 8 persen dari 54 juta penduduk Myanmar adalah anggota denominasi-denominasi Kristen. Umat ​​Katolik hanya satu hingga dua persen populasi. Umat ​​Kristiani sering alami diskriminasi di tangan umat Buddha radikal, terutama karena banyak umat Kristiani berasal dari etnis minoritas.
Artikel ini pertama diterbitkan oleh Aid to the Church in Need dan diterbitkan ulang dengan izin di Aleteia. Untuk lebih mempelajari misi ACN untuk membantu Gereja yang menderita, kunjungi www.churchinneed.org (PEN@ Katolik/pcp/Tobias Lehner – ACN News)