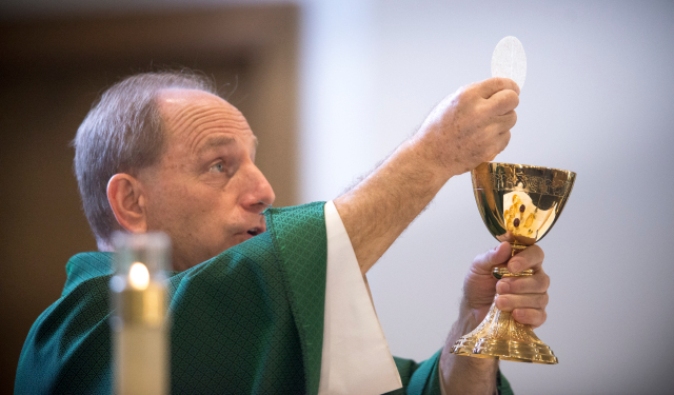 Sejak awal ketika membuat doa Ekaristi atau Doa Syukur Agung yang diucapkan imam dalam Misa, diputuskan bahwa berbagai orang kudus akan disebutkan namanya dalam doa itu, termasuk Santa Perawan Maria, Santo Petrus dan Paulus, para rasul lainnya dan daftar para martir Romawi.
Namun, selama berabad-abad nama Santo Yosef tidak terlihat dalam Ritus Romawi atau tidak disebut dalam kanon (bagian tetap dalam Misa) yang resmi. Salah satu alasannya karena Gereja di Roma ingin menonjolkan teladan suci para martir.
The Catholic Encyclopedia menjelaskan, "Karena Bunda Maria ikuti dua belas Rasul dan dua belas martir… Kedua belas martir jelas diatur untuk menyeimbangkan para Rasul. Pertama datang lima paus, lalu seorang uskup (Santo Siprianus), dan seorang diakon (Santo Laurensius), kemudian lima orang awam. Semua orang kudus ini, kecuali Santo Siprianus, adalah orang-orang kudus lokal Roma, sesuatu yang wajar karena awalnya adalah Liturgi Roma."
Itu tidak memberikan penjelasan lengkap tetapi beberapa pemahaman mengapa Santo Yosef tidak dimasukkan dalam doa Ekaristi. Dia bukan seorang martir, maka teladannya tidak sering disebutkan pada masa ketika orang Kristen dianiaya dengan hebat oleh Kekaisaran Romawi.
Pada saat yang sama, Santo Yosef dimasukkan dalam berbagai Liturgi Timur dalam beberapa abad pertama Gereja.
Menurut Life and Glories of St. Joseph, "Lagu-lagu kuno Gereja Yunani juga menjadi saksi atas penghormatan yang diberikan kepada Santo Yosef. Santo Ignatius sebagai Patriark Konstantinopel menyatakan bahwa Pesta Santo Yosef dirayakan pada hari Minggu setelah Kelahiran Yesus dan dia memberikan untuk hari Minggu itu sebuah kanon yang di bagian akhir mengatakan, 'Engkau, Oh Yosef yang membawa Allah, adalah penjaga Perawan Maria, yang menjaga keperawanan secara utuh. Semoga engkau bersama dia memperhatikan kami, Oh Yosef'."
Barulah tanggal 13 November 1962 Paus Yohanes XXIII memasukkan nama Santo Yosef dalam Doa Syukur Agung pertama. Kemudian tanggal 1 Mei 2013, Kongregasi Ibadah Ilahi dan Tata Tertib Sakramen mengesahkan dekrit Paternas vices, dengan memasukkan nama Santo Yosef dalam Doa Syukur Agung II, III dan IV.
Gereja akhirnya menyadari betapa besar kekayaannya yang ada dalam Santo Yosef dan berulang kali mengangkatnya untuk diteladani oleh semua orang, seperti yang baru-baru ini Paus Fransiskus lakukan yakni mencanangkan Tahun Santo Yosef.(PEN@ Katolik/pcp berdasarkan Philip Kosloski/Aleteia)