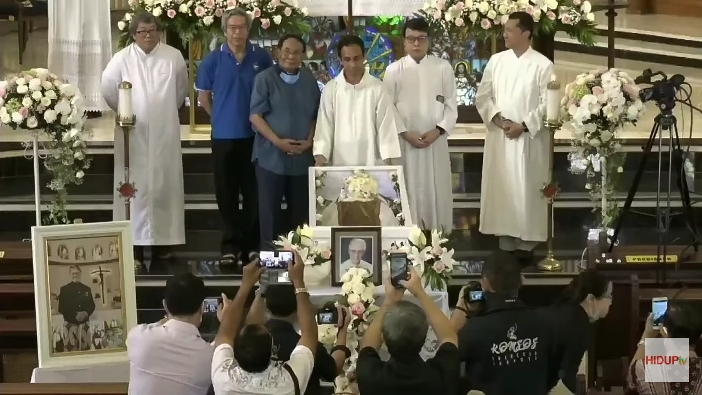 Dengan iringan Salam Maria oleh sekitar 25 imam, suster, dan umat yang semua mengenakan masker, peti jenazah Pastor Lambertus Martinus van den Heuvel Sugiri SJ yang meninggal dunia di sebuah rumah sakit di Jakarta, 11 Juni 2020, didorong masuk untuk dikremasi di Krematorium Oasis Lestari, Tangerang.
Tubuh Pastor Sugiri sudah dikremasi dan abu kremasinya akan dibawa ke Kolese Stanislaus, Girisonta, pada waktu yang akan ditentukan. Namun, kalau mengingat dan pernah mengenal Pastor Sugiri, kata yang akan langsung ada di benak kita pastilah "karismatik" atau Pembaruan Karismatik Katolik (PKK), kata moderator Badan Pelayanan Keuskupan PKK Keuskupan Agung Jakarta (BPK PKK KAJ), Pastor Chris Purba SJ, dalam Misa Pelepasan Jenazah, 12 Juni 2020, sebelum dibawa untuk kremasi.
Kata itu pasti muncul, jelas Pastor Chris Purba SJ, "karena memang ada anggapan bahwa Pastor Sugiri itu identik dengan karismatik dan karismatik itu identik dengan Pastor Sugiri." Imam itu membenarkan, Pastor Sugiri perintis karismatik di KAJ, Pastor Sugiri berinisiatif menggeluti PKK, "bahkan di kalangan SJ dulu pernah ada celutuk bahwa karismatik itu Kerajaan Pastor Sugiri."
Namun, di awal Pastor Chris mendapat tugas di Pusat Pelayanan PKK di Gedung Shekinah, Jakarta, dan dalam pembicaraan dengan Pastor Sugiri, "saya baru tahu, Pastor Sugiri terlibat di PKK bukan karena keinginan sendiri tapi karena ditugaskan oleh pimpinan waktu itu, Mgr Leo Soekoto."
Cerita Pastor Sugiri begini, kutip imam itu, "Setelah ada Persekutuan Doa di Bidaracina, cikal bakal PKK, Mgr Leo meminta Roy Sejadi (alm) dan teman-temannya mencari yang dianggap cocok jadi moderator PKK, karena uskup merasa perlu gerakan baru ini didampingi seorang Romo. Roy dan teman-teman sampai pada nama Pastor Sugiri yang waktu itu Pastor Paroki Mangga Besar. Ketika Roy meminta Pastor Sugiri mendampingi mereka, Pastor Rugiri memberi syarat. 'OK. Tetapi kalian harus membantu saya dalam pelayanan pastoral di Manga Besar.' Itu dealnya dan disepakati."
Dari cerita itu, "saya melihat kerendahan hati sangat besar dari Pastor Sugiri dan PKK adalah karya Allah, karya Roh Kudus, dan bukan karya Pastor Sugiri. Dia tidak ingin dirinya dijadikan Dewa Karismatik. Dia cuma seorang imam seperti hamba yang setia dalam Injil."
Bahkan, kata Pastor Chris dalam homili, saat ditanya kesannya oleh sebuah media, teman sekomunitas di Rupert Meyer Jakarta itu mengatakan, "Pastor Sugiri setia dan rajin mengajak para Jesuit sekomunitas untuk fellowship sebulan sekali di Villa Erema agar kita sungguh merasakan kehadiran dan mengalami hidup sebagai sahabat, sebagai saudara, yang bersukacita, sehat jasmani dan rohani, agar lebih dapat melayani dengan sukacita. Sangat perlu waktu untuk 'refreshing of mind and body' (penyegaran alam pikiran dan raga) atau dalam ungkapan mens sana in corpore sano. Kita tahu Pastor Sugiri rajin olah raga, tiga kali seminggu main tenis di Ancol agar tidak 'burning out' agar tetap bisa melayani dengan kreatif dan sukacita."
Tentang nilai kehidupan yang dipelajari dari Pastor Sugiri, Pastor Chris menjawab, "Sebagai Jesuit, Pastor Sugiri sangat inspiratif dalam karya evangelisasi (seperti yang semalam dikhotbakan oleh Pastor Dedo). Pastor Sugiri belajar terus-menerus, pengetahuannya sangat luas, maka tidak ada tanda-tanda kepikunan padanya sampai akhir hayatnya. Bahkan di usia lanjut, dia memberi inspirasi bagaimana lukisan bisa jadi sarana evangelisasi. Terasa sekali semangat pembaruan hidup rohani dihayati dan dipratekkan melalui Pembaruan Karismatik. Ketika ada yang apriori bahwa dia mendirikan "kerajaan sendiri," kemudian hari para Jesuit melihat itu tidak benar. Pimpinan Jesuit sempat pada kekhawatiran, menurut cerita Pastor Sugiri sediri kepada saya, ada kekhawatiran bahwa Pastor Sugiri yang identik dengan karismatik ini bisa mengganggu moderator penggantinya. Kekhawatiran itu tidak terjadi."
Tapi Pastor Sugiri SJ terbukti sebagai pribadi lepas bebas, tulis Pastor Simon Petrus Lili Tjahjadi Pr di media lain. Setelah dirinya bukan lagi moderator PKK dan diganti Pastor Gerardus Koelman SJ maka mulai 1990 beliau praktis tidak terlibat banyak di sana. Waktu itu Pastor Koelman memberi kesaksian, "Pastor Sugiri sungguh tak masuk campur tangan lagi di sini." Menurut Pastor Chris, "Ini baik karena memberikan keluluasaan kepada para penerus. Saya mengalami sikap lepas bebas Pastor Sugiri ini, sebab apapun yang dia kerjakan semuanya for the Glory of God."
Lukisan Glory of God adalah satu lukisan yang dia sangat sukai yang dia minta dipasang di Shekinah. Lukisan itu kini menjadi logo sekolah dan kursus evangelisasi Shekinah. "How Great Thou Art" adalah lagu kesukaan Pastor Sugiri, lanjut imam itu.
"Aku telah mengakhiri pertandingan yang baik, aku telah mencapai garis akhir. Aku telah memelihara iman. Sekarang telah tersedia bagiku mahkota kebenaran yang akan dikaruniakan kepadaku oleh Tuhan hakim yang adil pada harinya. Tetapi bukan hanya kepadaku melainkan juga kepada semua orang yang merindukan kedatangan-Nya," kutip Pastor Chris dari 2 Tim 4:7-8 seraya mengatakan bahwa Pastor Sugiri sudah sama seperti Rasul Paulus, dan menambahkan, "Pastor Sugiri adalah evangelisasi itu sendiri, adalah Kabar Gembira itu sendiri."
Co-moderator BPN PKK Indonesia Pastor Steve Winarto Pr membenarkan, Pastor Sugiri adalah orang sangat luar biasa dan sangat berjasa bagi PKK di Indonesia. Dua kesan imam itu terhadap Pastor Sugiri adalah "hidupnya merupakan bentuk evangelisasi baru dan sangat taat kepada pimpinan."
Cara hidup, perilaku dan apa yang Pastor Sugiri wartakan "membuat semakin banyak orang semakin mencintai Tuhan, dekat dengan Tuhan, dan akhirnya punya semangat baru dalam pelayanan di dalam Gereja, khususnya untuk perkembangan PKK di Indonesia." Imam itu menginformasikan bahwa sejak 1978 Pastor Sugiri "membawa semangat baru dan sampai hari ini menghasilkan begitu banyak kelompok karismatik yang berkembang di seluruh Indonesia, 10 BPPG dan 5 BPK di seluruh keuskupan Indonesia."
Pastor Sugiri penuh ketaatan terhadap pimpinan, baik serikat dan uskup di mana pun beliau berkarya. "Awalnya ia tidak mau bahkan tidak cocok dengan karismatik, dia merasa aneh mendengar orang-orang berbahasa Roh, tetapi dengan ketaatan dia menjalankan tugas serikat dan tugas uskup yang minta dia mengembangkan semangat itu dan mendampingi umat. Maka dia berkeliling ke keuskupan-keuskupan seluruh Indonesia untuk mengembangkan dan mewartakan pewartaan baru ini," cerita Pastor Steve.
Pastor Steve juga membacakan kesan Moderator BPN PKKI Pastor Antonius Gunardi MSF yang mengatakan, "Ketika melihat ketika dia jadi pastor di Dirjodipura Solo, rambutnya nyentrik gondrong, maka saya heran ketika di Jakarta Pastor Sugiri menggerakkan PKK dan parktis dia menjadi koordinator BPN PKK Indonesia yang pertama. Dia konsisten dan konsekuen dengan iman Katolik di dalam PKK, guru besar di PKK, yang tak tergantikan lebih-lebih sehungan dengan terbentuknya KEP dan SEP di keuskupan-keuskupan."
Ketua BPN Andreas Endi Rahardja membenarkan bahwa Pastor Sugiri adalah moderator pertama PKK di KAJ dan juga moderator pertama BPN. "Berkat jasa beliau sudah begitu banyak keuskupan yang memiliki badan pelayanan dan begitu banyak umat mengalami pembaharuan dalam hidupnya."
Endi melihat imam itu sebagai pemimpin visioner. "Beliau adalah seorang pemimpin yang mempunyai mimpi dan gagasan begitu besar. Beliau adalah imam yang mempercayakan pewartaan kepada kaum awam. Lewat beliaulah begitu banyak awam sungguh dapat mewartakan Kabar Sukacita bahkan ke seluruh Indonesia sampai mancanegara. Semua itu karena mimpi-mimpi beliau."
Dengan Sekolah Evangelisasi Pribadi yang didirikan Pastor Sugiri tahun 1988, lanjut Endi, "ada begitu banyak umat Katolik yang tadinya hanya Katolik suam-suam kuku menjadi orang Katolik yang begitu bersemangat, yang begitu aktif di paroki maupun keuskupan." Sebagai pemimpin visioner, lanjutnya, imam itu mempunyai mimpi "mendirikan oase rohani di tengah ibu kota yang begitu padat yang membuat orang menjadi stress, dengan membangun Gedung Shekinah yang kini menjadi Pusat PKK."
Di samping itu Endi merasa Pastor Sugiri adalah orang yang sangat menyejukkan. "Setiap kali berjumpa dia, orang akan rasakan kesejukan, karena ada kasih yang terpancar dari dirinya. Setiap kali berjumpa, beliau memeluk saya dan ketika itu saya merasakan kasih terpancar dari hatinya, beliau seakan-akan memberikan hatinya kepada saya dan saya dapat merasakan kasih seorang bapak kepada anaknya, dan itu tak mungkin akan dapat saya lupakan."
Dan jenazah Pastor Sugiri diberkati oleh pastor, dan ditaburi wewangian oleh semua yang hadir, kemudian peti jenazah ditutup dan didorong bersama-sama oleh para konfraternya keluar dari Gereja Santa Theresia Jakarta dan dimasukkan dalam ambulans yang membawanya ke krematorioum.(PEN@ Katolik/paul c pati)
Artikel Terkait:
Pastor Sugiri SJ lahirkan Kursus Evangelisasi Pribadi: sumbangan karismatik bagi Gereja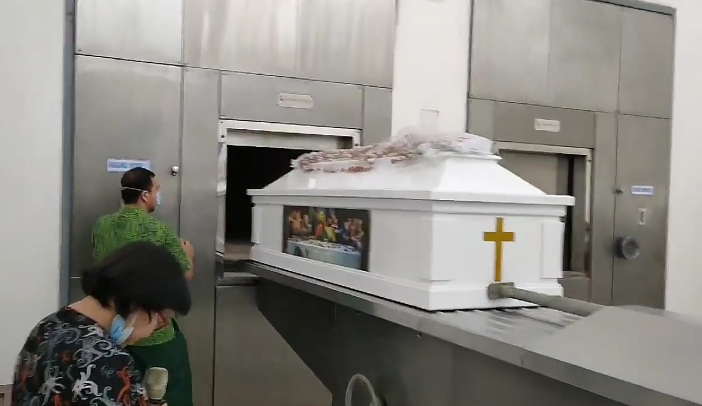 Jenazah Pastor Sugiri didorong masuk untuk kremasi