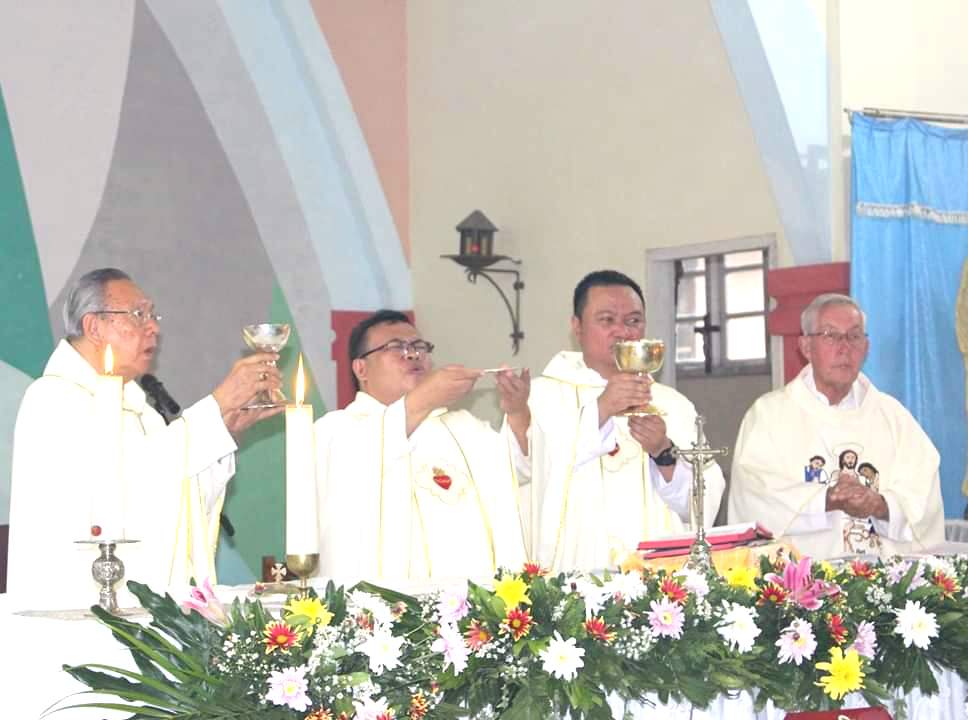 "Riwayat hidup Abi berkaitan erat dengan kehidupan Seminari Menengah Fransiskus Xaverius Kakaskasen. Sebagai pengajar dan terutama sebagai formator, Abi memberikan seluruh jiwa dan raganya kepada Seminari Kakaskasen. Abi bergiat di pelbagai bidang, pengajaran, surveillance (pengawasan di luar jam sekolah), dan bimbingan rohani bagi seminaris, reksa pastoral paroki, bimbingan rohani bagi suster karmel, pengelolaan keuangan pembangunan seminari, pelajaran bahasa Latin kepada pengajar Bahasa Latin, dan penyusunan buku Elementa Linguae Latinae."
Provinsial MSC Indonesia Pastor Johny Luntungan MSC berbicara menanggapi 60 tahun hidup membiara Abi, nama akrab Pastor Albertus Bernardus Gerardus Josep Smit MSC, yang merayakan 60 tahun hidup membiara, 21 September 2019, di Seminari Menengah Kakaskasen, Tomohon, Sulawesi Utara, dengan Misa dan pagelaran Home Concert bertajuk The Joy of Kimentur. Kimentur adalah nama bukit dengan Gua Maria di dalam seminari itu yang biasa disebut sebagai nama seminari ini.
Menurut Pastor Luntungan, semua kegiatan dalam hidup bakti Abi sebagai MSC itu bukan hanya penghayatan pribadi, "melainkan terutama panggilan yang membuat Abi selalu siap sedia untuk setiap pekerjaan yang baik (semper paratus ad omne opus bonum)."
Perjumpaan pertama dengan Pastor Smit terjadi 6 Desember 1967 saat Pastor Luntungan masuk Seminari Kakaskasen. Sebagai murid bahasa Latin, dia juga mengaku "mengalami pembinaan lewat tugas surveillance yang ditekuni Abi dengan sangat setia." Dan kini sebagai Provinsial MSC dia melihat panggilan Pastor Smit sebagai religius MSC, "menjadi inspirasi dan sumber semangat, ketekunan dan kegembiraan yang nampak dalam hidup."
Rektor Seminari Tinggi Pineleng Pastor Melky Malingkas Pr mengenang perjumpaan pertama dengan Pastor Smit saat mengikuti tes masuk seminari itu sekitar Mei 1990. "Melihat sosok Pastor Smit waktu itu terkesan sungguh-sungguh pribadi berwibawa dan 'agak angkuh' apalagi raganya waktu itu masih sehat dan segar-bugar," kata imam itu.
"Agak angkuh," kenang Pastor Melky, karena "saat itu banyak orang Indonesia dipengaruhi oleh kesan, dan mungkin masih ada sekarang, bahwa "orang bule" memiliki derajat dan martabat lebih tinggi daripada orang pribumi."
Tapi, dari pengalaman bersama kurang lebih empat tahun di seminari itu, "saya sebagai subyek bina dan Pastor Smit sebagai subyek pembina, saya melihat Pastor Smit berusaha menjadi 'Pastor Bonus' atau imam menurut peraturan Melkisedek. Kepribadiannya sungguh mengagumkan sebagai imam yang tidak pernah meninggalkan hidup rohani."
Setiap pagi, lanjut Pastor Melky, "merayakan Misa dan mengucapkan Laudes (pujian pagi) menjadi santapan rohani Pastor Smit, dan setiap sore Pastor Smith berdoa Vesper sambil berkeliling kompleks seminari dengan tangan di belakang dengan Rosario menggantung. Sudah pasti juga ia tekun berdoa secara pribadi di kamarnya."
Rektor Seminari Kakaskasen Pastor Hadi Untu Pr juga pernah murid dari Pastor Smit yang sekarang jadi teman sejawatnya dalam pembinaan di seminari itu. Pastor Smit, menurut imam itu, adalah  pribadi sangat keras dalam hal disiplin dan keteraturan hidup.
Menurut Pastor Hadi, perayaan 60 tahun adalah perayaan intan. "Intan itu mineral berkualitas sangat tinggi, langka dan unik, maka kehidupan membiara Pastor Smit juga berkualitas sangat tinggi, langka dan unik," kata imam itu seraya menjelaskan kesetiaan dan kesuksesan menjalani 60 tahun hidup membiara menunjukkan kualitas pribadinya. "Hanya segelintir orang dapat mencapainya."
Intan adalah mineral sangat keras. "Pastor Smit juga sangat keras dalam disiplin dan keteraturan hidup, serta kokoh dalam memperjuangkan atau mencapai sesuatu. Dia selalu merencanakan segala sesuatu dengan matang dan tidak suka pekerjaan asal-asalan," lanjut Pastor Hadi.
Di mata murid-muridnya, Pastor Smit itu tegas dan disiplin. Pengakuan itu disampaikan James Tiwatu, Ketua Confraternitas Kimentur, ikatan alumni Seminari Kakaskasen. James percaya, hal itu "tidak akan hilang dalam memori mantan anak didiknya karena itu juga membentuk pribadi kami. Saat ujian, kenangnya, Pastor Smith tidak pernah mentolerir siswa menyontek. "Ini bisa membuat Pastor Smit marah besar, namun ketegangan dalam kelas pasti hilang di luar kelas."
Menurut buku kenangan perayaan itu, Smit lahir 22 Maret 1940 di Belanda Timur dalam keluarga Katolik yang taat. Dia memiliki lima adik dan dibesarkan dengan susah payah di masa Perang Dunia II. Ayahnya, pekerja tenun di pabrik tekstil, adalah pribadi yang baik. Pekerjaannya sangat berat, pendapatannya cukup, tetapi tak lebih dalam keadaan perang.
Ongkos yang mahal dan tuntutan yang banyak di seminari membuat perjalanan Smit untuk menjadi misionaris terasa berat. Namun, dia bersyukur mendapat banyak bantuan keluarga. Mulanya dia minta bantuan pastor paroki dan mendapatkan respon sangat baik. Namun ketika mengutarakan keinginan menjadi misionaris, pastor paroki berubah pikiran, menjadi marah, jengkel, tidak membantunya masuk seminari.
Pertemuan dengan seorang seminaris membantu Smit. Keinginan untuk menjadi misionaris disampaikan kepada seminaris itu yang lalu membantu Smit mendaftarkan diri di seminari menengah. Seminggu kemudian, Smit dikunjungi seorang pastor seminari dan menyetujui keinginannya masuk seminari itu. Smit masuk seminari di usia 12 tahun.
Selama enam tahun pembinaan, Smit merasa berat. Jarak rumahnya dengan seminari sekitar 180 km, sehingga dia tak pernah dikunjungi keluarganya. Mereka hanya bertemu saat liburan. Meski demikian, Smit kuat dan teguh menjalani cita-cita dengan semboyan, "orang yang memiliki cita-cita bisa mendapat kekuatan untuk bertahan dalam tantangan."
Mulanya Smit tidak memikirkan tentang tarekat. Yang dia inginkan hanyalah menjadi misionaris. Namun dia pilih MSC sebagai penyalur keinginan menjadi misionaris. Percaya bahwa tangan Tuhan selalu menolong, Smit masuk seminari khusus untuk jadi misionaris. Smit cukup pandai sehingga tidak ada tantangan dalam studi. Tantangan yang selalu terlintas di pikirannya hanyalah "jauh dari keluarga".
Hari tahbisan imam adalah hari sangat istimewa bagi Smit. Walaupun sering merasa bosan dan berat hidup di seminari dan novisiat, dia tetap semangat. Setelah studi filsafat dua tahun, tanggal 2 Mei 1965 Smit ditahbiskan imam bersama 13 temannya oleh Mgr Moors, kakak dari Mgr Theodorus Moors MSC yang jadi Uskup Manado sejak 1969 hingga 1990. (PEN@ Katolik/Handry Pitoy)
Artikel Terkait:
Ahok spontan kunjungi Pastor Smit MSC dengan tulus tanpa muatan kepentingan pribadi