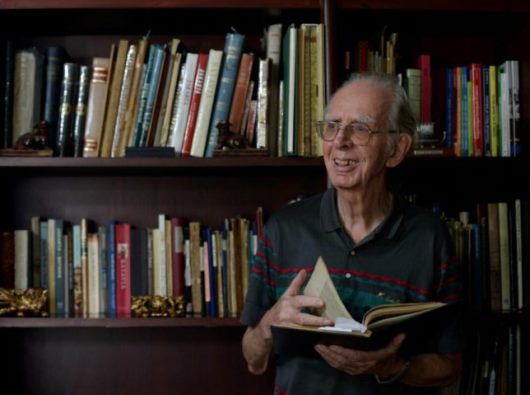 Pastor Adolf Heuken SJ, 90, yang meninggal dunia di Rumah Sakit Sint Carolus Jakarta 25 Juli 2019, tempat dia dirawat sejak 30 Juni 2019, telah dimakamkan di Kompleks Pemakaman Para  Imam Yesuit di Taman Makam Maria Ratu Damai Girisonta, Jawa Tengah, 27 Juli 2019.
Namun, anak sulung dari Franz Wilhelm Heuken (seorang guru) dan Clara Heuken, yang lahir 17 Juli 1929 di Distrik Coesfeld, Jerman, itu lebih dikenal di Indonesia, khususnya Jakarta, karena imam yang sudah WNI itu mencintai Jakarta, bukan hanya dengan menjadi anggota Tim Penasihat Arsitektur Kota DKI, Jakarta, 2011-2016, tapi menulis buku sejarah Jakarta dengan judul "The Historical Sites of Jakarta." Mantan Gubemur DKI, Fauzi Bowo dan Basuki Tjahaja Pumama, mengagumi buku itu.
Dari delapan bersaudara, Adolf dengan adiknya menjadi imam. Adiknya menjadi imam Dominikan (Ordo Pewarta, OP) yang berkarya sebagai misionaris di Taiwan. Namun, dia mati muda.
Selain 'The Historical Sites of Jakarta" yang sudah dicetak tujuh kali, Pastor Heuken juga menulis buku: Mesjid-mesjid Tua di Jakarta, Menteng "Kota Taman" Pertama di Indonesia, Sumber-sumber Asli Sejarah Jakarta Jilid I dan Jilid II, Gereja-Gereja di Jakarta, dan Kelenteng di Jakarta.
Adolf memulai novisiat di Novisiat Evagerfeld, Jerman, 7 September 1950, mengucapkan kaul pertama 8 September 1952, menjalani masa yuniorat 1952-1953 di Rottmanskike, kemudian formasi filsafat 1953-1956 di Pullach, menerima tahbisan tonsura dan tahbisan rendah lalu menjalani tahap orientasi kerasulan 1956-1958 sebagai pamong di Aloisiuskolleg, Bad-Godesberg, Bonn. Tahun 1958-1962, ia menempuh pendidikan Teologi di Saint George, Frankfurt. Setelah tahbisan diakon 18 Maret 1961, Adolf ditahbiskan imam di Frankfurt, 31 Juli 1961, dari tangan Uskup Limburg Mgr Wilhelm Kempf.
Tahun 1962, Pastor Heuken menjalani program Tersiat di Pusat Spiritualitas Yesuit, Kolese Saint Beuno's, di Wales, dan tahun 1963 di Novisiat Girisonta di bawah bimbingan Mgr Willekens SJ. Kaul Akhir dalam Serikat Yesus diucapkan di Jakarta 2 Februari 1968.
Pastor Heuken yang pernah berkarya di bidang penulisan dan penerbitan di Jakarta (1964-1968) juga bertugas dalam formatio di Kolese Santo Ignatius Yogyakarta (1968-1971) dan sejak 1971 hingga wafatnya sebagai Direktur Yayasan Cipta Loka Caraka (CLC), Jakarta, yang menerbitkan buku, tulisan, dan terjemahannya. Pencinta sejarah Batavia itu telah menerbitkan ratusan tulisan untuk Gereja dan masyarakat. Dia juga menulis Kamus Jerman-Indonesia dan Indonesia-Jerman terbitan Gramedia.
Hingga 2017, Pastor Heuken telah menulis, antara lain, 10 serial dan 6 ensiklopedia, 15 buku tentang sejarah Jakarta, semuanya dengan tulis tangan menggunakan bolpoin murahan, yang kemudian diserahkan kepada karyawan untuk diketik. Sesudah diketik, Pastor Heuken membaca dan mengoreksinya dan kemudian diserahkan kepada penerbit. Bahan-bahan tulisannya juga diambil dari berbagai buku bahasa asing. Pastor Heuken sendiri menguasai bahasa Jerman, Latin, Indonesia, Inggris, Perancis, Belanda, dan Portugis.
Pemerintah Indonesia pernah memberikan beberapa penghargaan kepada Pastor Heuken, antara lain Satya Lencana Kebudayaan.
Menurut Fauzi Bowo yang akrab dipanggil Foke, yang juga alumnus SMA Canisius dan pernah menempuh pendidikan di Jerman, kepergian Heuken adalah "kehilangan besar bagi Jakarta dan Indonesia." Foke mengutip pesan Pastor Heuken, seperti dikutip Kompas bahwa "tanpa mengenal sejarah Jakarta, orang tidak akan mencintai Jakarta, termasuk juga dalam upaya melestarikan peninggalan sejarah di Jakarta." (PEN@ Katolik/paul c pati berdasarkan berbagai sumber)