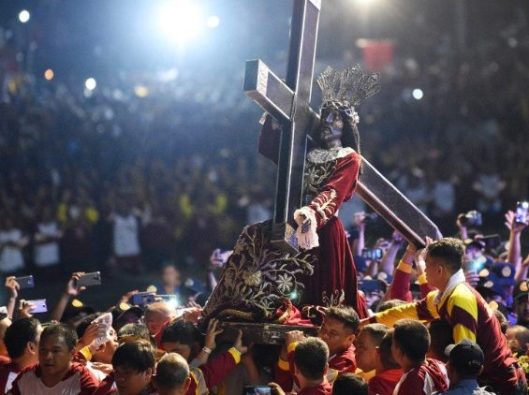 Pesta The Black Nazarene (Yesus Nazareth Hitam) dimulai dengan Misa di tengah malam, saat tanggal 9 Januari 2019 dimulai. Pesta itu dilanjutkan dengan prosesi yang diikuti puluhan ribu orang sepanjang 7 km membawa patung Yesus berkulit hitam dari Nazareth yang membawa salib-Nya.
Dalam Misa perayaan traslacion atau perpindahan atau perjalanan patung itu dari sebuah kapel di Quirino Grandstand ke basilika kecil Black Nazarene di distrik Quiapo Manila itu, Uskup Agung Manila, Kardinal Luis Antonio Tagle mendesak para peserta untuk melakukan devosi bukan fanatisme.
Dalam Misa yang dipimpin oleh rektor Basilika Kecil Black Nazarene Mgr Hernando Coronel itu, Kardinal Tagle mengatakan kepada ribuan orang yang menghadiri perayaan tengah malam itu untuk membedakan "orang-orang fanatik" dari "para devosan."
Selama prosesi, demikian laporan Robin Gomes dari Vatican News, puluhan ribu devosan tanpa alas kaki yang didominasi laki-laki berpakaian kaos kuning dan merah marun, dengan penuh kekalutan mendorong dan mendesak agar bisa menyentuh patung Yesus yang terbuat dari kayu dan gelap.
Orang-orang yang tidak bisa menyentuh the Black Nazarene melempar handuk kecil kepada relawan di atas kereta yang ditarik tali untuk menyeka bagian salib dan patung itu dengan keyakinan bahwa kekuatan Nazarene menyembuhkan penyakit dan pasti memberikan kesehatan yang baik dan kehidupan yang lebih baik.
Kardinal mengatakan hanya devosan sejati yang dapat memahami pentingnya perayaan itu. Kardinal mengatakan bahwa tidak seperti orang fanatik, para devosan mencintai Tuhan "tanpa syarat."
"Yang fanatik tidak mencintai. Orang-orang Fanatik berpegang pada siapa yang memberi arti penting bagi mereka," kata prelatus itu. "Tetapi seorang devosan … berdevosi karena cinta, dan itulah yang Yesus tunjukkan kepada kita," kata kardinal.
Kardinal itu mengatakan, seorang devosan akan selalu setia karena cinta. Para devosan, lanjut kardinal, dipersatukan dengan orang yang mereka cintai, baik itu dalam penderitaan, kebahagiaan, dan penyakit.
Prelatus itu mengingatkan umat Katolik bahwa menjadi devosan dari the Back Nazarene tidak hanya untuk sehari atau hanya untuk pesta itu. "Devosi adalah tindakan sehari-hari … Dalam setiap jenis cinta, kesetiaan, dan persatuan, harus setiap hari," kata Kardinal Tagle.
Menurut Mgr Koronel, hari raya the Black Nazarene berkisar pada devosi kepada Kristus yang menderita. Orang Filipina mengidentifikasi kehidupan mereka dengan kemiskinan dan penderitaan sehari-hari, sama seperti Yesus yang menderita.
Patung the Black Nazarene seukuran manusia dibawa ke Manila oleh para imam Agustinian tahun 1607. Menurut tradisi, warna patung seperti itu terjadi karena terbakar dalam kapal Spanyol yang mengangkutnya.
Polisi Manila memperkirakan hampir 300.000 orang mengikuti prosesi Rabu pagi dini hari, tidak termasuk orang-orang yang menunggu sepanjang rute prosesi. Palang Merah Filipina mengatakan, di pertengahan pagi mereka telah merawat lebih dari 600 orang karena masalah pernapasan, pingsan dan memar. Tiga orang dibawa ke rumah sakit. Populasi terbesar umat Katolik Roma di Asia, atau sekitar 80 persen dari 100 juta umat, berada di Filipina.(PEN@ Katolik berdasarkan Vatican News)