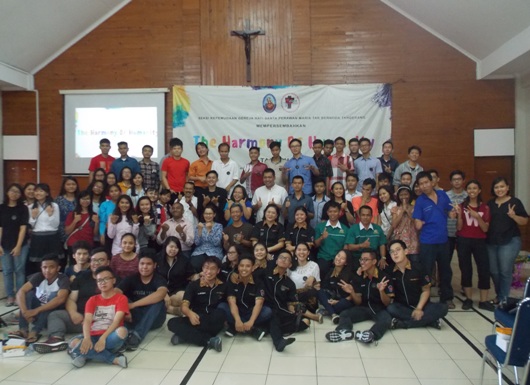 Dosen dan pakar perudungan  (bully) dari Fakultas Psikologi Universitas Indonesia Ratna Djuwita meminta orang muda Katolik dan orang muda dari agama lain untuk menjadi pelopor anti bullying yang kerap terjadi di sekitar kita, sebab bullying sudah bisa dipastikan berakibat negatif bagi perkembangan kepribadian seseorang.
"Saya mengajak orang muda, apabila dalam pergaulan setiap hari melihat ada yang melakukan bully, cegah dan jangan sampai perbuatan itu terjadi berulang-ulang," tegas Ratna di depan sekitar 150 OMK dan orang muda agama Islam, Protestan, Buddha dan Konghucu  dalam Talk Show di aula Paroki Hati Santa Perawan Maria Tak Bernoda (HSPMTB) Tangerang.
Talk Show yang diadakan 3 Desember 2017 oleh Seksi Kepemudaan Paroki HSPMTB Tangerang itu mengusung tema "The Harmony of the Humanity" dan subtema "Kau dan Aku Sama." Selain Ratna Djuwita, dua narasumber lain adalah Dinda Vesca yang merupakan relawan dari "Indonesia Mengajar, Mari Berbagi" dan Fransiskus Xaverius Amekae yang pernah jadi korban bully waktu masih kecil.
Lebih lanjut Ratna mengajak seluruh orang muda agar saling memberikan perhatian, "sehingga di lingkungan maupun di tengah masyarakat selalu harmonis dalam tata pergaulan setiap hari." Ditegaskan, membiarkan seseorang terus-menerus melakukan bully dianggap mendukung perbuatan itu.
Bully, yang terjadi di sekolah, tempat kerja atau di mana pun, sesungguhnya adakah tindakan sengaja seseorang atau sekelompok untuk menyakiti secara fisik, verbal, psikologis, sehingga korban bully merasa tidak berdaya. "Fakta ini sering terjadi dalam kehidupan pergaulan orang muda," tegasnya.
Dinda pernah berpindah sekolah dari Bogor ke Jakarta. Di Jakarta ia mengalami perbuatan tidak menyenangkan dari teman-temannya di SMA. "Karena saya keturunan Tionghoa, maka teman-teman menghinaku dengan sebutan "Cina," bahkan melempari saya dengan kursi. Saya pun sangat sakit hati bahkan saya berhenti sekolah dalam waktu lama, dan tidak naik kelas," katanya.
Kejadian itu tidak membuat Dinda dendam, melainkan menjenguk temannya yang melakukan bully itu di tempat rehabilitasi, karena temannya itu belakangan diketahui adalah pengguna narkoba.
Fransisksus lahir sebagai anak kelima dari lima bersaudara dari Kawasan Indonesia Timur. Warna kulitnya hitam, maka teman-temannya memanggil dia "arang, arang'. Kendati mengalami bully, Fransiskus dari Paroki Kristus Raja Pejompongan itu tetap melakukan hal-hal positif.
Ada yang mengurung diri kalau dibully, tapi Fransiskus menganggap orang yang lakukan bully mendapat nilai-nilai kehidupan yang kurang baik dalam keluarganya. "Ketika saya ceritakan perbuatan bully terhadap diri saya kepada orang tua, mereka selalu memberikan motivasi agar saya tidak berkecil hati."
Meskipun dibully, Fransiskus tetap belajar dan kini aktivis kerasulan keluarga paroki itu berkarya sebagai bisnis development di Unilever Indonesia. "Untuk mencegah bully, fokuslah pada yang dicita-citakan. Orang lain punya hak melakukan apa saja, maka saya lebih banyak mengabaikan bully itu," katanya.
Melalui acara itu, kata ketua panitia Yudeta Delta Hendri Ana Gea, panitia berharap kaum muda lintas iman menjadi garda terdepan dalam mencegah bully. "Harapannya dengan kegiatan ini, para pemuda bisa menjadi pelopor anti bully dan menjadi orang yang selalu melakukan kebaikan," katanya.(Konradus R Mangu)