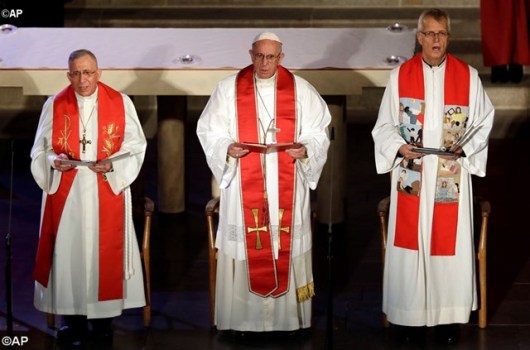 Tanggal 31 Oktober 2017 menandai ulang tahun ke-500 terbitnya 95 tesis dari teolog Jerman, Martin Luther, yang menggerakkan peristiwa Reformasi Protestan. Untuk menandai kejadian itu, di hari Selasa itu Dewan Kepausan untuk Peningkatan Umat Kristen dan Federasi Dunia Lutheran (LWF) mengeluarkan pernyataan bersama, yang mensyukuri karunia spiritual dan teologis yang diterima melalui Reformasi dan yang mengenang peristiwa-peristiwa peringatan yang terjadi selama setahun terakhir.
Tepat setahun yang lalu, Paus Fransiskus pergi ke Lund dan Malmo, kota-kota di Swedia, untuk mengikuti perayaan-perayaan Reformasi bersama para pemimpin LWF. Fokus liturgi di Katedral Lund yang kuno dan perayaan gembira kaum muda di arena Malmo adalah memohon pengampunan atas dosa-dosa abad lalu, serta merayakan kemajuan lima puluh tahun terakhir dan berjanji meningkatkan usaha bersama dalam pelayanan bagi orang yang paling membutuhkan.
Setahun kemudian, pernyataan hari ini mengingatkan peristiwa-peristiwa bersejarah itu, khususnya komitmen Paus Benediktus dan mantan presiden LWF, Uskup Munib Younan, untuk melanjutkan perjalanan ekumenis itu.
Pernyataan itu mengatakan bahwa perjalanan bersama selama lima puluh tahun terakhir telah menghasilkan "penghapusan prasangka, peningkatan saling pengertian dan identifikasi kesepakatan-kesepakatan teologis yang menentukan."
Meskipun umat Katolik dan umat Lutheran belum bisa duduk bersama dalam satu meja Ekaristi, kedua Gereja itu mengakui "tanggung jawab pastoral bersama untuk menanggapi kehausan dan kelaparan rohani umat kita untuk menjadi satu di dalam Kristus."
Memperingati Reformasi sec ara bersama di banyak negara seluruh dunia, tulis pernyataan itu, telah memungkinkan orang Lutheran dan orang Katolik mendapatkan wawasan baru dalam peristiwa-peristiwa abad ke-16 yang menyebabkan perpisahan mereka.
Memperhatikan kemajuan teologis yang dibuat melalui the Joint Declaration on the Doctrine of Justification (Pernyataan Bersama tentang Ajaran Pembenaran) pernyataan itu mengatakan bahwa persekutuan dan layanan bersama yang berkembang merupakan tanda harapan bagi dunia saat ini untuk mengatasi perpecahan dan fragmentasi.
Pernyataan itu diakhiri dengan komitmen untuk melanjutkan perjalanan menuju persatuan, yang dipandu oleh Roh Tuhan, dengan menyadari bahwa "apa yang kita miliki bersama jauh lebih banyak daripada yang masih memisahkan kita." (pcp berdasarkan Radio Vatikan)