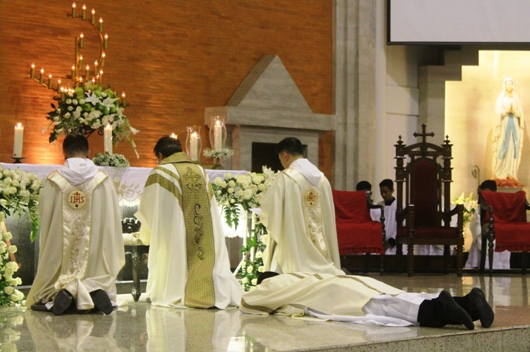 Uskup Surabaya Mgr Vincentius Sutikno Wisaksono mengingatkan sebelum tahbisan imam di sebuah gereja di Surabaya bahwa hidup imamat tidak menjanjikan sukses duniawi, kepuasan kerja, penghargaan tinggi, sanjungan dan pujaan, perkembangan karir atau promosi, serta jaminan hari tua seperti pekerja, "tetapi menanggung resiko hidup dalam bayang-bayang salib."
Mgr Sutikno memberi peringatan itu dalam homili Ritus Tahbisan Imam dari Pastor Mingdry Hanafi Tjipto OP di Redemptor Mundi Surabaya, satu-satunya paroki yang dijalankan Ordo Pewarta (Dominikan, OP) di Indonesia, pada Pesta 100 Tahun Penampakan Bunda Maria di Fatima, 13 Oktober 2017.
Dalam Misa Mgr Sutikno didampingi Kepala Paroki Redemptor Mundi Pastor Adrian Adiredjo OP dan Provinsial Ordo Dominikan Filipina Pastor Napoleon Sipalay Jr OP serta para imam OP dari Indonesia dan Filipina, dan para imam dari Keuskupan Surabaya, serta Pastor Fransiskus Andry Hanafi Tjipto OFM, adik kandung dari Pastor Mingdry.
Uskup Surabaya mengutip Paus Fransiskus yang menyebut tantangan hidup imamat zaman ini adalah "kesetiaan injili sampai akhir." Secara khusus, lanjut uskup, Paus ingin mengatakan bahwa "kesetiaan mewartakan Injil, yaitu Yesus Kristus sebagai Kabar Gembira Keselamatan, justru di tengah-tengah ketidakpastian, kesulitan dan ancaman penderitaan, dan hanya kasih Kristus yang jadi kekuatan hidup."
Yang utama dalam panggilan hidup imamat adalah kesetiaan atau konsistensi, namun selalu muncul pertanyaan, "apakah saya bisa setia dan konsisten sampai akhir, bukan sekedar betah atau survive." Di samping itu, lanjut paus, "yang hendak menjadi imam harus menanggung resiko untuk ditolak, diabaikan dan tidak dihargai, seperti halnya Yesus sendiri."
Namun, Paus mengingatkan agar terus hidup dalam pengharapan, sebab kita anak-anak Allah yang diselamatkan dalam pengharapan. "Justru dalam penderitaan, kesengsaraan dan ancaman bahwa kini imamat kehilangan arti atau apa artinya salib kalau hidup imamat hanya akan menuju kesia-siaan, iman kita diuji dalam pengharapan."
Misa tahbisan bertema "100 Tahun Penampakan Bunda Maria di Fatima," kata Mgr Sutikno, meneguhkan keutamaan hidup kesetiaan dalam pengharapan Kristiani akan janji Allah yang mengutus sekaligus memberi jaminan kekuatan hidup untuk setia sampai akhir, seperti dinyatakan dalam hidup Bunda Maria," yang siap menanggung penderitaan dengan mengatakan "Aku ini hamba Tuhan terjadilah padaku menurut perkataan-Mu."
Maka, uskup minta Saudara Mingdry menghayati hidup imamatnya dengan mengandalkan kekuatan akan Kristus yang memberikan kekuatan hidup untuk setia sampai akhir. Uskup ingatkan, salah satu bagian paling mengesankan dalam tahbisan imam adalah saat calon bertiarap, tanda penyerahan diri untuk mempersembahkan hidup sebagai kurban.
"Saudara Mingdry, selama kamu bertiarap, Gereja mohon kekuatan ilahi dengan Litani Para Kudus agar kamu dapat mempersembahkan diri kepada Tuhan dan umat-Nya sebagai kurban hidup, seperti riwayat semua orang kudus yang menghiasi hidupnya dengan korban suci penyerahan diri dalam pengharapan bahwa hidup bukan sia-sia, karena dengan itu kamu menyelamatkan banyak orang," kata uskup.
"Kita mohon kepada Bunda Maria semoga Saudara Mingdry kuat dan taat sampai akhir dalam mempersembahkan hidupnya bagi keselamatan jiwa-jiwa, terutama bagi umat Allah di Keuskupan Surabaya yang akan dilayaninya," lanjut uskup yang bersama semua yang hadir berdoa" Santa Maria Bunda Allah, doakanlah kami yang berdoa ini sekarang dan waktu kami mati, Amin."
Sebelum homili, provinsial OP Filipina memohon agar uskup menahbiskan Diakon Mingdry, yang menurutnya layak ditahbiskan. Menurut penilaian umat dan orang-orang yang mengenalnya, tegas provinsial, "saudara ini layak ditahbiskan menjadi imam. Saya dan umat yang hadir di sini adalah saksinya."
Maka sesudah homili, uskup bertanya apakah Saudara Mingdry bersedia melaksanakan tugas seorang imam dan misteri Yesus Kristus dalam Gereja, mewartakan Sabda Allah, menyerahkan diri kepada Allah demi keselamatan manusia, dan taat kepada pimpinannya.
Mendengar kesediaan dan janjinya, uskup mengajak umat berdoa agar Tuhan memberikan anugerah ilahi-Nya kepada Saudara Mingdry, yang lalu bertiarap di tengah Doa Litani Para Kudus. Sebelum Doa Tahbisan, Saudara Mingdry menerima penumpangan tangan dari uskup serta semua imam yang hadir termasuk Pastor Andry OFM.
Dengan bantuan Pastor Andry dan ibunya, di depan sekitar 750 imam, suster, dan umat, termasuk Dominikan Awam, Pastor Mingdry mengenakan stola dan kasula yang diterimanya dari uskup, yang lalu mengurapi tangannya dan menyerahkan kepadanya patena dengan hosti serta piala dengan anggur.
Masih dalam suasana bergambar bersama, Setyowati mengatakan kepada PEN@ Katolik bahwa dia "sangat bangga dan bahagia, karena anak kampung bisa jadi pastor." Ketika ditanya resep keluarga sehingga dua anaknya menjadi pastor, Setyowati menegaskan "itu panggilan dia, sejak SD sebagai misdinar, saat dia rajin bangun pagi untuk hadiri Misa, retret dan kunjungan ke biara."
Harapan ibu agar Pastor Mingdry semakin baik dan penuh melayani Gereja juga diungkapkan kakaknya Irene Maria Jeny Hanafi. "Semoga bisa melayani dengan baik," kata Jeny yang juga bersyukur karena akhirnya adiknya berhasil ditahbiskan. Sebagai kakak dia berbahagia karena dua adiknya dipilih Tuhan menjadi imam. "Mama dan kami hanya berdoa agar pilihan hidup mereka berhasil baik, karena pilihan itu muncul dalam diri mereka sendiri," kata Jeni.
Pastor Sipalay mengatakan kepada PEN@ Katolik bahwa dia sangat senang dan terinspirasi dengan tahbisan Pastor Mingdry, karena "pertumbuhan kami bukan hanya ditandai dengan tahbisan imam baru, tetapi upaya bersama Keluarga Dominikan, imam, frater, suster dan awam, dengan dukungan uskup, dan para imam lain. Inilah artinya menggereja, kita bukan hanya sendiri sebagai Ordo Dominikan, tapi kita bersama semua yang bekerja sama dengan kita. Tahbisan imam itu adalah wajah yang sangat bagus untuk membangun Gereja, khususnya di sini, Surabaya.
Meski demikian, Ketua Panitia AM Handoko, yang sudah 11 tahun berkecimpung di Paroki Redemptor Mundi merasa tahbisan itu akan semakin semarak kalau semua anggota panitia semakin besar memberi dukungan karena "sungguh menanggapi Roh Kudus dalam menjalankan tugas di paroki."
Sarjana teknik sipil yang lahir di Surabaya 10 September 1980 itu kini menjadi imam yang akan berkarya di Paroki Redemptor Mundi . Formasi Filsafat dijalankan di Philippine Dominican Centre of Institutional Studies Manila (2009-2011) dan Formasi Teologi di University of Santo Tomas Manila (2011-2016). Kaul pertama diucapkan 5 Mei 2009, kaul kekal 8 April 2012, dan tahbisan diakon 25 April 2017.
"Awal ketertarikan saya masuk seminari adalah saat aktif mengikuti Putra Altar di Paroki Kristus Raja Surabaya. Saya begitu tersentuh saat Romo mengangkat roti dan anggur yang berubah menjadi Tubuh dan Darah Kristus dalam Doa Konsekrasi," kata Pastor Mingdry OP yang mengaku berjumpa dengan Ordo Dominikan saat ekspo panggilan para suster OP di Gereja Santa Maria Tidak Bercela, Surabaya." (paul c pati)