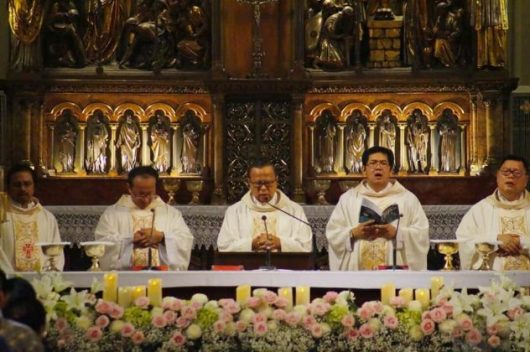 Uskup Agung Jakarta Mgr Ignatius Suharyo mengatakan umat Katolik perlu memaknai hari Komunikasi Sosial (Komsos) ke-51 seperti disampaikan oleh Paus Fransiskus sebagai komunikator iman dan harapan dalam kehidupan setiap hari, sambil mengajak "Mari komunikasikan iman dan harapan."
Mgr Suharyo memimpin Misa Hari Komsos se-Dunia ke-51 di Katedral Maria Diangkat ke Surga, Jakarta, 27 Mei 2017. Konselebran Misa, yang dihadiri sekitar 800 umat Katolik dan 200 pegiat komsos dari paroki-paroki se-Keuskupan Agung Jakarta (KAJ) itu, adalah Kepala Paroki Katedral Jakarta Pastor Hani Rudi Hartoko SJ, Ketua Komsos KAJ Pastor Matius Harry Sulistyo Pr dan beberapa imam lain.
Dalam homili bertema "Jangan Takut, Aku Menyertaimu: Komunikasikan Iman dan Harapan," Mgr Suharyo menggambarkan perasaan takut dan 'galau' yang melanda hati para rasul karena ditinggalkan Yesus yang naik ke surga. Hal itu nampak dari saat para rasul berkumpul dalam rumah kosong kemudian tekun dalam doa.
Namun, Mgr Suharyo melihat ketekunan berdoa berarti melakukan komunikasi dengan Tuhan. Dan di antara mereka hadir Bunda Maria, yang penuh setia dan taat kepada Tuhan. "Dalam kondisi ketakutan, hadirnya Bunda Maria menghalau semua kegelisahan yang ada dalam diri para rasul. Bunda Maria memberikan kekuatan dan keyakinan bahwa hidup tidak perlu takut, tapi senantiasa percaya bahwa Tuhan pasti menyertai."
Mgr Suharyo mengutip penegasan Paus (emerius) Benediktus XVI dalam ensiklik "Allah adalah Kasih" bahwa  "dalam kepahitan hidup apa pun Tuhan selalu menyertai manusia," dan seruan untuk jangan takut menghadapi persoalan kehidupan, karena "Tuhan pasti memberikan pertolongan mana kala manusia dalam kesulitan apapun asal kita bersandar kepada-Nya."
Ketakutan, menurut Mgr Suharyo, bisa dialami manusia zaman ini. "Bahkan yang muncul adalah kekerasan. Manusia cenderung membalas dengan kekerasan, sehingga lahirlah kejahatan-kejahatan lain," kata Mgr Suharyo yang lalu berharap agar pada hari komsos umat membiarkan Roh Kudus menerangi pikiran agar tetap beriman teguh dan penuh pengharapan.
Dalam situasi bangsa yang penuh keprihatinan, Uskup Agung Jakarta merasakan perlunya komunikasi yang membawa kesejukan dan kedamaian. "Komunikasi demikian hanya bisa terjadi jika berasal dari kedalaman hidup beriman dan hidup yang dipenuhi harapan."
Sesudah Misa, para pegiat komsos dan undangan lain menghadiri malam anugerah Inter Mirifica (INMI) dan HIDUP Awards di aula katedral untuk mengapresiasi media website Paroki se-KAJ dan untuk pertama kalinya dianugerahkan HIDUP Award untuk media cetak paroki atau lembaga atau keuskupan di seluruh Indonesia.
Tahun-tahun sebelumnya, INMI Award diberikan baik untuk media digital maupun media cetak dan penganugerahannya bergantian setiap tahun. Mulai 2017 Komisi Komsos KAJ berbagi peran dengan majalah HIDUP. HIDUP Award untuk media cetak dan peserta diperluas ke seluruh Indonesia baik paroki, keuskupan maupun lembaga Katolik, sedangkan INMI Award hanya untuk media website.
Untuk 2017, sebanyak 53 media cetak ikut memperebutkan HIDUP Award. Namun, Paroki Bojong Indah Jakarta hampir menjuarai semua kategori terbaik. Bahkan berhasil memperoleh piala best of the best dari INMI dan HIDUP Award.
INMI Award 2017:
INMI AWARD juga menghargai fotografi dan film pendek
Pemenang Lomba Foto:
1. Juara 1: Kendrick – "Berempati"
2. Juara 2: Ignatius – "Setia Bersamamu dalam setiap Langkah demi Masa Depan"
3. Juara 3: Frederikus – "Bertindak Adil dan Beradab pada Lingkungan"
Pemenang Lomba Film Pendek:
1. Juara 1: Komsos Toasebio – "Di dalam Keheningan"
2. Juara 2: Agatha Nurmariati – "Aisyah"
3. Juara 3: Philipus Febrian Dermawan: Lumen – "Love Unites"
HIDUP AWARD 2017:
Feature Terbaik: "Komunika", Komsos Paroki Santa Monika Serpong KAJ
Artikel Rohani Terbaik: "Teman Seperjalanan", Seminari Tinggi Santo Yohanes Paulus II KAJ: "Tentang Sebuah Rumah dan Gereja Kita",
Berita Terbaik: "Cor Unum", Komsos Keuskupan Purwokerto: "Rumah adalah Sekolah Kehidupan dan Cinta Kasih"
Desain Cover Terbaik: "Salus", Komsos Paroki Santo Laurensius Alam Sutera, KAJ.
Layout Terbaik: "Merasul", Komsos Paroki Santo Thomas Rasul Bojong Indah, KAJ.
Ilustrasi/Foto Terbaik: "Merasul", Komsos Paroki Santo Thomas Rasul Bojong Indah, KAJ.
Penggunaan Bahasa Indonesia Terbaik: "Aquila", Seminari Menengah Santo Petrus Kanisius Mertoyudan.
Best of the Best: "Merasul", Komsos Paroki Santo Thomas Rasul Bojong Indah, KAJ.(Konradus R Mangu/pcp)