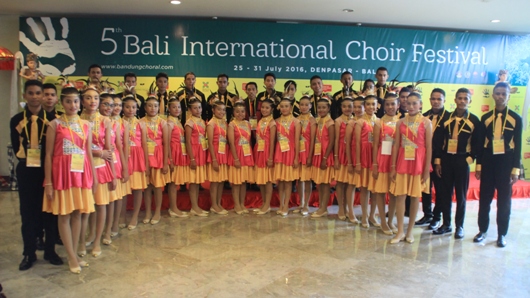 Gita Smater Choir (GSC) atau Paduan Suara SMAK Frateran Maumere, Flores, Nusa Tenggara Timur sudah tiga tahun berturut-turut meraih medali emas  pada Kompetisi Bali International Choir. Mereka pun memastikan diri untuk mengikuti Singapore International Choir Festival 2017 bulan Juli 2017.
"Persiapan sudah dimulai  sejak Oktober tahun lalu. 40 anggota paduan suara terus berlatih untuk mencapai kekompakan," kata Kepala Sekolah SMAK Frateran Maumere Frater M Polikarpus BHK pada rapat guru Smater 1 April 2017.
Selain itu, jelas frater itu, sudah mulai pengumpulan dana donatur baik dari pemerintah, dalam hal ini Dinas Pariwisata NTT. "Sudah ada dukungan dari Pemda Sikka, ini akan mewujudkan mimpi besar GSC untuk menembus mancanegara," kata frater itu.
Dalam Kompetisi Bali International Choir 2016, GSC meraih predikat The Winner Category setelah mengalahkan puluhan kelompok paduan suara dari dalam dan luar negeri.
Saat itu, GSC meraih medali emas untuk kategori Scanic Folklore dengan mempersembahkan lagu Tena Reta Iung dari Kabupaten Sikka, NTT, dan Trophy The Winner of Folklore Category dari lagu Bulu Gila dan Yamko Rambe Yamko.  Sedangkan Kategori Teenagers dengan lagu Sing When The Spirit Says Sing dan Kalwedo Basudarae berhasil meraih medali perak.
Menurut dirigen GSC Blasius Moa, persiapan demi persiapan terus dilakukan. "Inikan perlombaan di Singapura jadi kita harus persiapkan diri dengan baik terutama vocal dan mental karena pesertanya adalah kelompok paduan suara yang tangguh. Untuk itu menumbuhkan kepercayaan diri kepada anggota paduan suara sangat penting," tegas Guru Fisika SMAK Frateran Maumere itu.
Dia menjelaskan, GSC akan berlaga di tiga kategori yakni Folklore, Teenagers dan Sacra. "Kami lagi mempersiapkan lagu untuk tiga kategori ini," lanjut Blasius. (Yuven Fernandez)