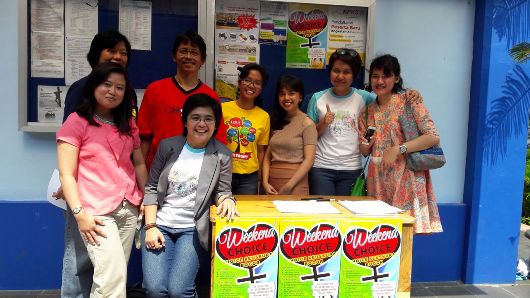 Meski sudah lama dikenal di keuskupan tetangga yakni Keuskupan Agung Jakarta, baru di akhir 2016, Choice masuk Keuskupan Bogor dan mulai diperkenalkan dan didorong pembentukannya di paroki-paroki keuskupan itu, bahkan secara resmi Uskup Bogor Mgr Paskalis Bruno Syukur OFM, melalui surat keputusannya, menunjuk dan menugaskan Pastor Robertus Pramudianto Pr untuk memimpin dan mengkoordinir gerakan itu di Keuskupan Bogor.
Choice adalah gerakan dalam gereja Katolik yang menghimpun Muda-Mudi Dewasa (MDD) untuk membina dan mengembangkan relasi (hubungan) yang lebih baik dan mesra dalam keluarga, dalam  gereja dan dalam masyarakat. Gerakan ini lahir sebagai reaksi terhadap keadaan masyarakat yang kental dengan materialisme, konsumerisme dan hedonisme terutama di kota-kota besar yang membuat hubungan antar sesama menjadi renggang dan sendi-sendi persaudaraan menjadi kabur.
Maka mulai awal 2017, Pastor Pramudianto dibantu beberapa orang muda-mudi dewasa melakukan sosialisasi Choice di paroki-paroki, dan tanggal 5 Maret 2017 kegiatan sosialisasi dilakukan di gereja Paroki Santo Ignatius Loyola, Atang Senjaya, Semplak , Bogor.
Pastor Pramudianto yang memimpin Misa memperkenalkan Choice kepada umat dan mengajak mereka, khususnya kelompok MMD, untuk berpartisipasi aktif dalam Choice Keuskupan Bogor.
Ludvina, salah seorang umat Paroki Sukasari Bogor, yang selama ini aktif dalam kegiatan Choice di Keuskupan Agung Jakarta, dipersilakan berbagi (sharing) pengalamannya dalam mengikuti Week End Choice. Menurut Ludvina, salah satu yang dirasakannya adalah dapat memperbaiki, mendekatkan dan memesrakan kembali hubungan pribadinya dengan ibunya.
Dari informasi yang ada, melalui semboyannya To Know, To Love and To Serve, Choice ingin mewujudkan misinya yaitu menyadarkan anggota khususnya dan masyarakat umumnya akan pentingnya membina hubungan yang baik dan mesra dalam berinteraksi dengan keluarga, sesama dan masyarakat luas.
Gerakan yang  dimulai di kota New York, Amerika Serikat, 30 tahun lalu oleh Pastor Tom Morrow bersama beberapa pasangan suami-isteri itu, kemudian berkembang ke seluruh dunia, dan di Indonesia dimulai pada 1982, yang ditandai dengan Week End Choice pertama di Jakarta, dan kemudian berkembang ke seluruh Indonesia, sehingga telah terbentuk distrik-distrik seperti: Jakarta, Bandung, Semarang, Purwokerto, Jogjakarta, Surabaya, Malang, Padang, Manado, Makassar dan Pekan Baru.
Berbagai kegiatan yang dilakukan Week End Choice, termasuk perayaan Natal, Paskah, Bakti Sosial, Anjangsana, Paduan Suara, Retret dan Rekoleksi. Week End Choice adalah salah satu kegiatan kelompok kategorial di dalam gereja Katolik seperti halnya Legio Mariae dan ME yang didukung sepenuhnya oleh Gereja.(Ans Gregory da Iry)