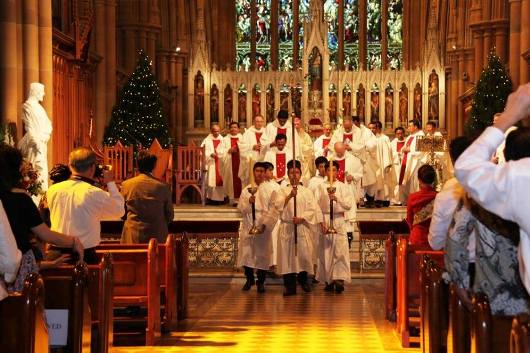 Kini, 25 tahun sudah Catholic Indonesian Community (CIC) atau Komunitas Katolik Indonesia (KKI) ada di wilayah Sydney Raya (Greater Sydney), Australia. "Marilah, sebagai generasi penerus, kita satukan genggaman tangan untuk merayakan syukur dan terus membangun CIC menjadi Gereja dengan entitas Indonesia yang berperan dalam pembinaan umatnya di tengah-tengah masyarakat multi kultur Australia."
Chaplain CIC saat ini Pastor Aloysius Tamnge MSC berbicara dalam sambutan Misa Natal Bersama CIC di Katedral Saint Mary Sydney. "Kerajian dan semangat umat perdana CIC dan tokoh-tokohnya serta gembalanya yang berhimpun dalam Misa sporadis mendorong mereka untuk mengajukan permohonan dan memperoleh restu keuskupan dalam Surat Keputusan Uskup Pembantu (emeritus) Keuskupan Agung Sydney Mgr David Cremin tertanggal 8 November 1992," jelas misionaris asal Indonesia itu.
Maka di tahun 2017 ini, CIC Sydney Raya akan genap berusia 25 tahun. Dengan pengakuan dan dukungan terhadap eksistensi CIC itu maka anggota CIC Sydney mendapat pelayanan dan bimbingan kerohanian sebagai umat Katolik dari Keuskupan Agung Sydney.
Di samping itu, jumlah umat Katolik Indonesia di kawasan Sydney terus bertambah dan kini diperkirakan sudah mencapai beberapa ribu orang, baik keluarga-keluarga maupun para mahasiswa-mahasiswi dan pelajar.
Pada Misa Natal Bersama, 26 Desember 2016 itu, sekitar 1500 umat hadir di Katedral Sydney mengikuti Misa yang dipersembahkan oleh Uskup Pembantu Mgr Terrence Brady sebagai konselebran utama dengan Pastor Aloysius Tamnge dan beberapa pastor Indonesia yang bekerja di Keuskupan Agung Sydney dan dua pastor Australia yang biasa membantu pelayanan CIC, sebagai konselebran.
Menurut keterangan dari Pastor Tamnge, hingga saat ini berbagai macam pelayanan pastoral dilakukan untuk umat CIC, diantaranya Misa dalam bahasa Indonesia setiap Minggu di Gereja Santo Joseph, 109 Lennox Saint Newton; di Gereja Our Lady of the Rosary, 4 Roma Av. Kensington; di Gereja Saint Agatha,  20 Boundary Rd, Pennant Hills; di Gereja Mary Mother of the Church, 58 Edgar Saint Marquarie Fields dan di Gereja Our Lady of Dolour Church, Cnr Kirk & Archer Saint Chastwood.
Selain itu dirayakan juga dua Misa Karismatik Katolik dalam sebulan di Gereja Saint Peter Julian, 641 George St, Sydney; Misa Jumat Pertama dan Adorasi di Our Lady of the Rosary Church, Kensington; Liturgi Anak-Anak di Kensington dan di Newton.
Selain Persekutuan Doa Muda Mudi Katolik (PDMMK) di Kensington, serta Legio Maria, Bible Study atau Sharing, ada juga pelayanan Sakramen seperti Sakramen Tobat, Pernikahan, Pembaptisan Bayi, Perminyakan Suci, serta kunjungan kepada orang sakit, pemakaman, peringatan kematian, pemberkatan rumah, katekisasi dan konsultasi. (Ans Gregory)