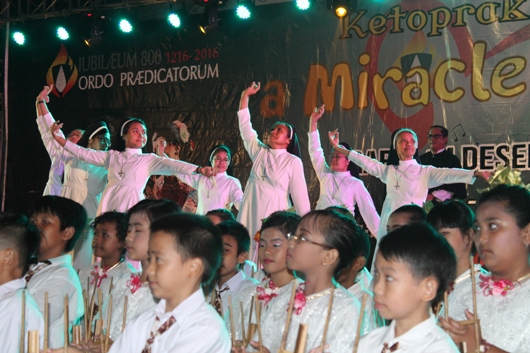 "Memasuki SD, saya mulai berkenalan dengan pelajaran kedominikanan yang memperkenalkan saya secara lebih dalam pada sosok Santo Dominikus dan keteladanannya. Saya juga mulai mengenal enam semangat yang diwariskan Santo Dominikus kepada para pengikutnya. Saya dilatih untuk berbelarasa, memulai dari apa yang ada, rajin berdoa dan belajar memiliki semangat persaudaraan dan berdemokrasi."
Elleonara Anindya menulis pengalamannya di Santa Maria Cirebon mulai TK sampai saat ini, Kelas XII IPA 1. Dia mengaku selama itu tidak bosan atau mau mencari sekolah lain, "karena suasana kekeluargaan dan persaudaraan yang saya rasakan membuat saya betah."
Itulah keajaiban cinta yang Elleonara rasakan, seperti ditulis dalam buku "A Miracle of Love Mengenang 800th Ordo Dominikan" yang dibagikan kepada semua orang yang datang menyaksikan Ketoprak Rohani "A Miracle of Love" di Aston Cirebon Hotel and Convention Center, Cirebon, Jawa Tengah, 14 Desember 2016.
Convention center dipenuhi orangtua siswa, alumni, dan undangan, juga suster OP dan Dominikan Awam Cirebon, para pastor dari Paroki Santo Yusuf Yos Sudarso dan Paroki Bunda Maria Duku Semar, serta Uskup Bandung yang juga Uskup Kongregasi Suster-Suster Santo Dominikus di Indonesia Mgr Antonius Subianto Bunjamin OSC.
"Semua  murid diperlakukan sama tanpa ada pengistimewaan. Guru-guru juga benar-benar serius mengajar kami, agar kami betul-betul paham, bukan hanya sekolah menghapal saja," lanjut Elleonara dalam buku yang dibagikan saat acara yang tujuannya didasarkan pada kepedulian terhadap anak-anak yang terancam putus sekolah karena keterbatasan biaya, sekaligus menyambut peringatan 800 tahun Ordo Predicatorum atau Ordo Dominikan atau Ordo Pewarta yang disingkat OP.
A Miracle of Love yang disutradarai dan juga dipentaskan oleh Didik Nini Thowok menceritakan rasa cinta kasih terhadap budaya, warisan leluhur, dan seni tradisi tari topeng Cirebon. Cerita itu menggambarkan pengembaraan Didik mencari topeng warisan keluarga yang dicuri saudaranya untuk dijual.
Begitu banyak dinamika dijumpai dalam mendapatkan kembali topeng itu. Semua dinamika itu digambarkan dalam penampilan lagu, tari, musik dan adegan yang menampilkan Anne Aviantie, Endah Laras, Trio GAM, Novita X Factor, Alex X Factor, pastor, suster, guru, alumni dan murid-murid Santa Maria Cirebon yang juga menampilkan marching band, angklung, paduan suara dan tarian.
Namun, setelah topeng temukan, Didik memberikannya kepada siswi yang mencintai tari topeng Cirebon. Bahkan lebih daripada itu, Didik mendidik siswi itu untuk menari dengan baik. Itulah rasa solidaritas terhadap sesama manusia di bidang pendidikan. Itulah keajaiban cinta, yang menggambar hal-hal tidak mungkin menjadi mungkin.
Suster M Anna Marie OP melihat keajaiban cinta Tuhan mengalir dalam diri para suster Dominikan, karena Ordo yang didirikan Santo Dominikus itu sudah berusia delapan abad melewati berbagai perang, bidaah, tekanan dan godaan. "Spiritualitas hidup Santo Dominikus sendiri diwariskan menjadi kekuatan dan perwujudan atas kedalaman hidup dengan ber-contemplare et contemplata aliis tradere atau mewartakan nilai-nilai rohani dan dibagikan kepada siapapun yang dihadirkan, termasuk anak-anak generasi penerus."
Jenderal Kongregasi Suster-Suster Santo Dominikus di Indonesia itu bercerita bahwa tahun 1950 pemimpin pusat kongregasi di Belanda menerima permohonan Prefektur Apostolik Bandung Mgr JH Goumans OSC untuk membuka karya di Cirebon, maka hadirlah suster-suster OP memulai karya pendidikan tanpa memandang besarnya kesulitan dan banyaknya masalah. Bahkan drama itu dilihatnya sebagai kreatifitas untuk membantu membangun masa depan berkesinambungan karena kepedulian untuk membantu anak-anak yang terancam putus sekolah.
Suster M Constantia OP sebagai ketua Bagian Pendidikan Yayasan Santo Dominikus melihat tema Miracle of Love sebagai ajakan untuk merenungkan kebesaran Tuhan yang adalah kasih. "Miracle of love merupakan muara untuk mampu bersyukur dalam segala keadaan dan situasi, untuk mampu berbagi dengan kasih karena Tuhan adalah kasih, untuk mampu melihat Tuhan dalam segala dan segala dalam Tuhan."
Acara itu, menurut Suster Constantia, bisa ada karena Miracle of Love. "Tuhan berkarya melalui banyak orang yang terbentuk dalam kepanitiaan. Semua yang hadir digerakkan oleh kasih, sehingga dengan gembira datang dan hadir memberikan dukungan. Miracle of Love memungkinkan kita berbagi dengan penuh syukur, karena kita dan segala yang kita punyai berasal dari Tuhan yang adalah kasih, yang senantiasa berbagi untuk kesejahteraan dan keselamatan bersama."
Yang perlu disyukuri, menurut pimpinan Komunitas Biara Santa Maria Cirebon Suster M Gabriella OP, adalah karya, pendampingan, tuntunan, topangan Tuhan selama 800 tahun kepada para Dominikan di dunia. "Bukan pekerjaan mudah dengan situasi yang ada. Perjuangan para Dominikan saat itu minim transportasi, minim nutrisi. Bekal utamanya adalah daya juang yang tinggi untuk mewartakan Kristus," kata suster itu.
Itulah inspirasi para suster OP saat ini. "Membagikan buah kontemplasi kepada orang lain merupakan pedang tajam dalam pewartaan, sehingga dunia mengalami sukacita sejati," kata Suster Gabriella.
Namun, rasa syukur belum mewadai, khususnya misi di Cirebon. Maka Ketua Yayasan Santo Dominikus Cabang Cirebon yang menjadi penanggung jawab panitia, Suster M Albertine OP, mengajak semua pihak bukan hanya bersyukur tetapi menimba rahmat Tuhan dari berkat agung 800th Ordo Dominikan.
"Seperti kita ketahui, perayaan ini telah dipersiapkan sepanjang tahun melalui aneka kegiatan studi, rohani, sosial dan refleksi, semoga buahnya mampu memberikan inspirasi dan pencerahan bagi hidup dan kesaksian kita di tengah masyarakat," kata Suster Albertine seraya berharap dengan perayaan itu spiritualitas Dominikan semakin dikenal, dicintai dan dihayati semakin banyak orang sebagai jalan memaknai kehidupan.
Paling kurang, harap Ketua Panitia Miracle of Love Yakobus Suparsa, "semoga spirit Laudare, Benedicere dan Predicare mengalir dan dirasakan semua orang yang bersentuhan dengan Ketoprak Rohani itu."
Mgr Antonius dalam doa penutup bersyukur kepada Tuhan atas anugerah yang mengalir dari Ordo Pewarta selama 800 tahun khususnya untuk karya keselamatan bidang kesehatan, pendidikan dan sosial. Kehadiran para suster OP selama 66 tahun di Cirebon, tegas uskup, adalah Miracle of Love.
Elleonora membenarkan pernyataan uskup, karena penanaman sikap yang diberikan para suster OP itulah "yang menjadi nilai lebih bagi Santa Maria, karena belum tentu saya mendapatkannya di sekolah lain."
Meskipun awalnya semangat Santo Dominikus hanya hapalan demi nilai kedominikanan, jelas siswi itu, lama kelamaan tanpa disadari dia mulai menerapkannya dalam kehidupan sehari-hari. "Saya juga bisa merasakannya dari sikap teman-teman. Bersekolah di Santa Maria membentuk pribadi saya secara tidak langsung dan tanpa paksaan, sesuai motto sekolah yang ingin melahirkan pribadi-pribadi utuh, cerdas, dan cinta kebenaran," kata Elleonora tentang sekolah yang tidak hanya membuat dia cerdas secara intelektual, namun juga secara moral dan emosional itu.(paul c pati)