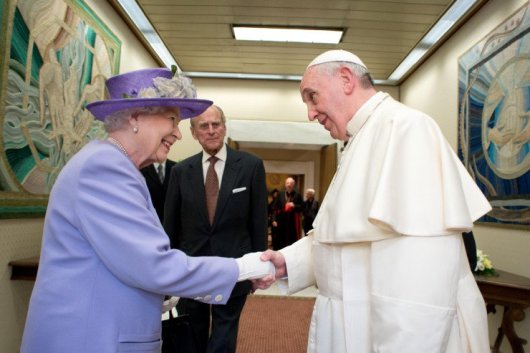 Saat bangsa Indonesia merayakan Hari Kartini untuk memperingati kelahiran Raden Adjeng Kartini, 21 April 1879, tokoh Jawa dan Pahlawan Nasional Indonesia yang dikenal sebagai pelopor kebangkitan perempuan pribumi,  pada tanggal yang sama Ratu Elizabeth II merayakan ulang tahun ke-90.
Ratu monarki konstitusional dari 16 negara berdaulat serta ketua dari 54 anggota Negara-Negara Persemakmuran itu lahir tanggal 21 April 1926. Menurut Radio Vatikan, sudah banyak orang yang datang memberi penghormatan kepada Ratu Inggris yang juga Gubernur Agung Gereja Inggris itu, termasuk Kardinal Vincent Nichols dari Inggris.
Ketua Konferensi Waligereja Inggris dan Wales itu membagikan lewat Twitter, "Ratu memberikan kepada kita teladan pelayanan yang sabar dan sepenuh hati. #HappyBirthdayYourMajesty Kami senang menantikan perayaan-perayaannya."
Selain itu, Perdana Menteri David Cameron menyebut monarki tertua di dunia itu sebagai "batu kekuatan" bagi negara itu.
Anaknya, Pangeran Charles juga mengatakan, "Dia, seperti kita semua, dapat merefleksikan kehidupan yang telah menginspirasi dan mendorong jutaan orang di Inggris, Persemakmuran dan seluruh dunia."
Bersyukur atas ucapan-ucapan selamat, Yang Mulia twit di hari ulang tahunnya, "Saya mengirimkan ucapan selamat kepada mereka yang sedang merayakan ulang tahun ke-90 … pada kesempatan bersama ini, saya mengirim ucapan selamat yang hangat kepada kalian."
Ratu itu lahir dari Duke dan Duchess of York tahun 1926. Ayahnya kemudian menjadi Raja George VI. Ratu itu menjalankan tugas publik selama Perang Dunia II, dan menikahi Philip, Duke of Edinburgh, tahun 1947. Dia naik tahta 1952 setelah ayahnya meninggal, namun penobatannya baru berlangsung tahun 1953.
Selama bertahun-tahun, Yang Mulia telah bertemu sejumlah Paus di Vatikan, termasuk Santo Paus Yohanes XXIII. Selain itu, dia telah menerima Paus-Paus di Inggris, termasuk Paus Benediktus XVI dalam kunjungan kenegaraan tahun 2010 dan Santo Paus Yohanes Paulus II dalam kunjungan pastoral tahun 1982.
Baru-baru ini, dia bertemu dengan Paus Fransiskus saat berkunjung ke Roma bulan April 2014. Pertemuan informal Ratu itu, bersama suaminya, Pangeran Philip, dengan Paus Fransiskus menandai pertemuan pertamanya dengan Paus dari Argentina itu.(pcp berdasarkan Zenit.org)
Foto Ratu bersama Paus Fransiskus di bulan April 2014 . Courtesy Of Blogs.Fco.Gov.Uk