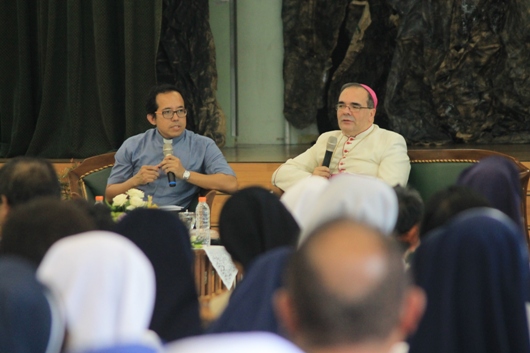 Selain mendorong kaum religius untuk membaca, meningkatkan pastoral panggilan, melakukan hubungan bijaksana antara biarawan dan biarawati, serta merayakan liturgi dengan baik, Duta Vatikan untuk Indonesia minta agar kaum religius menghindari perbedaan etnis dan gosip serta mencintai sesama yang sudah tua dan yang datang dari negara lain.
Uskup Agung Antonio Guido Filipazzi berbicara dengan 300 imam, suster, bruder dan frater dari 72 ordo, kongregasi, atau tarekat religius di Aula Santa Angela Bandung, 4 Desember 2015. Para peserta Penutupan Tahun Hidup Bakti 2015 bertema "Wake Up the World! Enkindle the Fire of Your Vocation" (Bangunkanlah Dunia! Kobarkan Api Panggilanmu), yang berlangsung di Lembang 2-5 Desember 2015, datang untuk talk show bersama Nuntio dengan tema "Religius Muda di Zaman Modern."
Dasar hidup religius adalah berkomunitas, maka Nuntio berharap para religius bukan hanya menciptakan komunitas "agar, seperti kata Santo Paulus: tidak ada orang Yahudi atau orang Yunani," tetapi juga mengikuti ajakan Paus Fransiskus "agar dalam hidup berkomunitas dihindari gosip atau kritik yang tidak membangun, karena itu sering tidak benar, hanya fitnah." Apalagi di zaman modern, "Dengan alat-alat komunikasi yang kita punya, gosip dan rumor cepat menyebar ke seluruh Indonesia dan dunia."
Nuntio mengingatkan kaum religius untuk menjalin komunikasi yang baik antara kaum religius yang tua dengan yang masih muda, dan antara kaum religius lokal dan kaum religius dari luar negeri yang datang sebagai misionaris. "Yang muda dapat selalu belajar dari yang tua … Sering tercipta perasaan tidak cocok dengan orang dari luar, maka jangan lupa, mereka telah mengorbankan hidupnya untuk kita."
Tentang bina lanjut, Mgr Filipazzi tegas mengatakan bahwa kaum religius muda perlu membaca. "Kita harus sadar, bina lanjut menuntut kesediaan membaca demi membangun hidup rohani, karena nampaknya hanya sedikit minat membaca," kata Nuntio yang mengusulkan agar di masa adven para religius mencari dan membaca buku yang membantu mereka dalam pembinaan teologi, katekese, pendalaman iman, serta pemahaman kehadiran serikat mereka.
Melihat banyak biarawan-biarawati yang hadir, Nuntio mengatakan kalau ada orang Eropa melihat peristiwa itu mereka akan kagum, karena ada begitu banyak religius muda, "karena di Indonesia masih banyak dan kaya akan panggilan religius."
Tapi, "Saya harus mengatakan ada tanda-tanda pengunduran jumlah panggilan di Indonesia, karena saya yakin semakin berjalannya waktu masyarakat semakin tersekularisasi. Semakin membaiknya hidup ekonomi, mungkin semakin berkurang juga jumlah panggilan di tempat kita."
Duta Vatikan meminta jangan menunggu sampai krisis panggilan datang. "Jangan menunggu panggilan datang mencari kita, tapi kita harus menjemput bola, membuat pastoral panggilan. Kalau kaum muda melihat imam, suster, bruder, frater muda begitu serius, mereka akan bertanya, 'apakah kita tidak bisa seperti mereka'. Maka, saya mengundang kalian semua yang masih muda untuk dekat dengan kaum muda dan berani bertanya kepada mereka 'mengapa kalian tidak berani memilih panggilan ini?'"
Namun untuk bisa bertanya seperti itu, para religius muda harus memberi kesaksian sebagai religius yang sejati, jelas Nuntio seraya menegaskan bahwa meski masih banyak panggilan di Indonesia, "dunia dan pelbagai tempat di Indonesia masih membutuhkan imam-imam."
Juga dilemparkan 'bola panas' atau pesan tajam tentang liturgi. "Terutama di Bandung di mana ada institut liturgi terkenal." Ditekankan, kalau kita menghadiri satu perayaan liturgi bukan berarti kita harus punya ide merubah liturgi, karena "perayaan liturgi sudah diatur dalam pedoman."
Perayaan liturgi, menurut wakil Paus itu, sama seperti sungai mengalir, yang masuk ke dalamnya menjadi basah. "Perayaan liturgi yang harus mengubah kita, bukan kita yang mencoba membuat liturgi sesuai keinginan kita." Menjawab pertanyaan seorang suster, Nuntio menegaskan bahwa yang ditekankan bukan soal nyanyian dan tarian tetapi soal bacaan dan doa-doa. Namun juga ditanya, "apakah unsur-unsur yang kita masukkan dalam liturgi, seperti tarian, membantu umat untuk berdoa atau hanya suatu tontonan?"
Nuntio memberi pesan sensitif tentang hubungan antara pastor dan suster juga biarawan dan biarawati dengan umat berlainan jenis kelamin. "Kita semua sudah ikrarkan kaul kemurnian, maka saya berpesan supaya hati-hati. Mungkin tidak ada yang salah dalam hubungan kita, tetapi tidak perlu memberi kesan kepada yang lain seolah-olah ada sesuatu … kalian sendiri mengerti yang saya maksudkan."
Juga tentang pakaian imam atau biarawan. Dijelaskan, karena pakaiannya seorang suster langsung diketahui atau terlihat, sedangkan seorang imam atau biarawan tidak langsung, harus ditanya. "Pesan saya supaya di dalam konstitusi dikatakan sesuatu tentang seragam, tentang cara berpakaian yang menampilkan tanda siapa kita."(paul c pati)